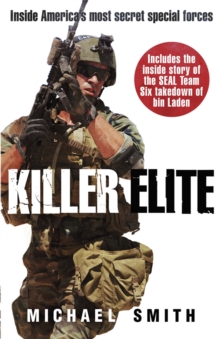 Killer Elite : America's Most Secret Soldiers
Paperback
Description
The first book about SEAL Team Six and Bin LadenAmerica's most secret Special Forces unit does not even have a name.
Formed as the 'Intelligence Support Activity', it has had a succession of innocuous titles to hide its ferocious purpose.
It exists to 'undertake activities only when other intelligence or operational support elements are unavailable or inappropriate'.
Translated from Pentagon-speak, this means operating undercover in the world's most dangerous places, penetrating enemy organizations including Al Qa'eda, Hamas and Islamic Jihad. 'The Activity' combines the spy work of the CIA with the commando/SAS role of the Green Berets.
It not only provides the intelligence on the ground - it translates it into 'direct action'.
This is the unit that located Saddam Hussein, and recently led the intelligence operation that found and killed Osama Bin Laden.This is the untold story behind the world's most secret Special Operations organisation.
Information
Format: Paperback
Pages: 384 pages
Publisher: Orion Publishing Co
Publication Date: 14/07/2011
Category: Military history
ISBN: 9781908059055
Free Home Delivery
on all orders
Pick up orders
from local bookshops
Reviews
Showing 1 - 1 of 1 reviews.
Review by NickHowes
27/08/2015
The story of a low-profile intelligence organization known variously as the Activity and the Army of Northern Virginia, starting with the debacle involving the hostage rescue operation in Iran and taking it up to the death of Osama bin Laden. The Activity is the point of the sword...operatives who gather the intelligence that is needed for planning special operations missions. This is done through radio detection, electronic tracking, satellite surveillance, and other means, not the least of which is actually infiltrating agents into the area to check on things first-hand. The multi-star brass, as has ever been the case, had little or no use for special operations and it wasn't until Donald Rumsfeld and the war in Iraq that they came fully into their own. You can't argue with success...Osama bin Laden was pinpointed and killed. Along the way, the Activity gathered intelligence that led to the death of cartel kingpin Pablo Escobar, provided ignored security analysis that could've helped save the Marines killed in the Beirut barracks bombing, and assisted in numerous other ways. The bin Laden story is played up big but is a couple chapters, however succinct and descriptive. Good book.