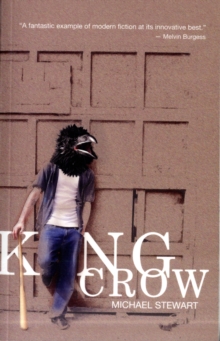 Information
Format: Paperback
Pages: 210 pages
Publisher: Bluemoose Books Ltd
Publication Date: 28/01/2011
ISBN: 9780956687609
Free Home Delivery
on all orders
Pick up orders
from local bookshops
Reviews
Showing 1 - 1 of 1 reviews.
Review by summonedbyfells
16/06/2015
The only good thing about being felled low and hacked off by coughs, cold and laryngitis is the chance to lighten the load of that mini-library of unread books colonising my coffee table. A jittery hand selected KING CROW to comfort a sniffy convalescence, and so it did. The novel is a sort of teenage rites of passage tale where with careless ease minor behavioural transgressions trend toward exponential consequences. These are territories well explored and recorded by many writers but what Michael Stewart achieves is originality in structuring his storyline, especially his protagonist Paul Cooper's infatuation with birds and his quest for the Raven, king of all Crows. The plot evolves from a casual stumbling upon a drugs deal, leads to attempted escape and pursuit to the English Lake District where fugitive lucks and misfortunes abound. Throughout the chase is interwoven a series of imaginative transferences as Paul Cooper's default is to judge people by the bird species he sees within them. To this extent the story is an exploration of the psychology of interpersonal relationships with the unusual twist that one side is avian, it doesn't sound as if it should work, but it does. And indeed it is this element of Stewart's fiction that delivers the final climax to his story, but for that satisfaction you'll have to read the book. Near the end of the novel our hero who is now both hunted and hunter, ponders: "Perhaps in order to find Ravens I must become more like a Raven." An observation that immediately whisked me to another author for whom fact and fantasy mingle producing something greater than either: J.A.Baker and his seminal study: THE PEREGRINE. When I read it I marveled at just what sort of a person could or would go to such an extreme of effort. Michael Stewart's King Crow goes a long way to answering that question, but please don't wait for bird-flu before you read it.