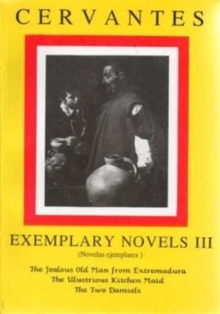 Cervantes: Exemplary Novels 3 The jealous Old Man from Extremadura, The Illustrious Kitchen Maid, the Two Damsels The jealous Old Man from Extremadura, The Illustrious Kitchen Maid, the Two Damsels
Paperback / softback
Description
The Jealous Old Man from Extremadura follows the story of Felipo de Carrizales, as he returns from the New world as an old but a wealthy man.
He chooses a young, innocent wife, Leonora, to provide him with an heir.
His jealousy causes him to lock her away, where she is never to have contact with the male sex.
This awakens the curiousilty of a young rake, Loaysa, who successfully breaches the house and proceeds to use flattery and guile on young Leonora. The Illustrious Kitchen-Maid follows the adventures of two noble boys, Avendano and Diego, who are fascinated by the life of the rogue.
They decieve their parents by pretending to go to university and set out for the mecca of the rogue fraternity.
When they stop off at a Toledo inn, Avendano falls in love with a virtuous kitchen maid.
The maid turns out to be the illagitamet half sister of Diego.
The noble lovers can now step out of their disguises and the prodigal sons can be reunited with their parents. The Two Damsels is a courtly novela about deception and dishonour in nobel circles in Andalusia.
Teodosia and Leocadia, two beautiful young noblewomen are without each other's knowledge taken in by the same young nobleman, Marco Antonio.
After promising marriage to each, Marco Antonio deserts them, prefering freedom and adventure to the ties of wedlock.
The two girls pursue him, and catch up with their deciever, where Marco Antonio expresses his preference to Teodosia as his wife and matches Leocadia with his brother in marriage.
Spanish text with facing-page translation, introduction and commentary.
Information
Format: Paperback / softback
Pages: 224 pages, p, Aris & Phillips Hispanic text
Publisher: Liverpool University Press
Publication Date: 31/12/1992
Category: Literary essays
ISBN: 9780856684968
Free Home Delivery
on all orders
Pick up orders
from local bookshops