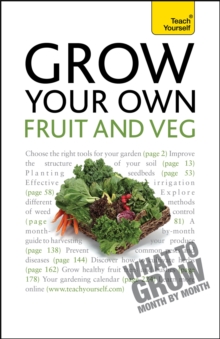 Grow Your Own Fruit and Veg
Paperback / softback
Description
Is this the right book for me?Grow Your Own Fruit and Veg will guarantee success for anyone wishing to grow fresh produce in any patch of earth, be it garden, allotment or series of containers.
This book gives specific instructions on when, where and how to grow and maintain various fruit and vegetables, from the more basic to the exotic, without the use of chemicals.
It includes an A-Z list of plants together with ease of growth ratings and an approach that welcomes involvement from the whole family.
Whatever your plans for home-grown fruit and vegetables this is the essential guide. Grow Your Own Fruit and Veg includes:Chapter 1: ToolsWhat you will needChapter 2: Soil typesSoil pH and what it means to the gardenerChapter 3: Soil preparationSoil profileCultivationChapter 4: Manure, compost and fertilizersSources of manureGarden compostLeaf mouldWorm compostGreen manureFertilizersChapter 5: Seed sowing and plant raisingSowing in pots and trays indoorsSowing seed outdoorsTransplanting in the open groundChapter 6: WateringUnder glassClochesOutsideConservation of waterChapter 7: Growing in containers and raised bedsGrowing mediumContainersDeep raised bedsGrowing bagsChapter 8: Planning your gardenCrop rotationsWhat size of plot do I need?Chapter 9: WeedsWhat are weeds?Controlling weedsChapter 10: Vegetable varietiesChoosing your vegetablesBrassicasLegumesRoots - carrot familyRoots - onion familyOthersMonthly list of produce availableChapter 11: Common pests and diseasesPotatoesCarrotsOther root vegetablesOnionsOther vegetablesChapter 12: HerbsThe cultivation of herbsDescriptive list and cultivation notesChapter 13: FruitGrowing fruitSoft fruitTop fruitLearn effortlessly with an easy-to-read page design and new added features:- Shows you what to plant and when - Gives you tips and techniques for success - Offers a full list of plants, from A to Z - Brand new edition, with personal insights, tips, energising self-tests and summaries throughout the book- Extension articles online - Every book gives you one, five and ten-minute bites of learning to get you started
Free Home Delivery
on all orders
Pick up orders
from local bookshops
Also in the Teach Yourself - General series | View all