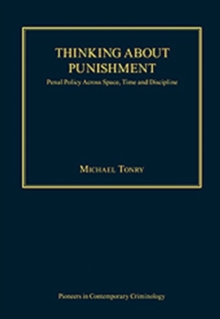 Thinking about Punishment : Penal Policy Across Space, Time and Discipline
Hardback
Description
Thinking about Punishment pulls together the key writings by Michael Tonry on penal policy trends in western countries, racial and ethnic disparities, and sentencing policies, practices, and theories.
Recent research in the past few decades shows that these topics are inextricably interrelated. Tonry argues that the distinct historical and cultural characteristics of a country offer the best explanation of national patterns of punishment at any one time, and over time.
More general theories and models fall apart when applied to individual national experiences. In the United States, the key factors explaining both penal policy trends and sentencing patterns and policies include historical patterns of race relations, obsolete constitutional arrangements, moral attitudes related to the continental expansion of the United States and the country's fundamentalist Protestant religious origins.
Comparable - but different - characteristics explain other countries' experiences. This excellent collection of Michael Tonry's work is essential reading for anyone interested in penal policy and criminal justice.
Information
Format: Hardback
Pages: 554 pages
Publisher: Taylor & Francis Ltd
Publication Date: 16/12/2009
Category: Penology & punishment
ISBN: 9780754629054