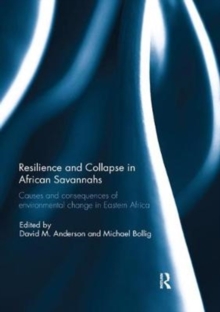 Resilience and Collapse in African Savannahs : Causes and consequences of environmental change in east Africa
Paperback / softback
Description
This book assesses the causes and consequences of environmental change in East Africa, asking whether local African communities are sufficiently resilient to cope with the ecological and social challenges that confront them.
It focuses on the savannahs of the Baringo-Bogoria basin, and the surrounding highlands of Kenya's northern Rift Valley that form the social-ecological system of the specialised cattle pastoralists and niche agricultural farmers who occupy these semi-arid lands.
Historical studies of resilience spanning the past two centuries are linked with analysis of current environmental challenges, and the ecological, social, economic and political responses mounted by local communities.
The authors question whether the most recent challenges confronting the peoples of eastern Africa's savannahs - intensified conflicts, mounting poverty driven by demographic pressures, and dramatic ecological changes brought by invasive species - might soon led to a collapse in essential elements of the specialised cattle pastoralism that dominates the region, requiring a re-orientation of the social-ecological system.
This book was originally published as a special issue of the Journal of Eastern African Studies.
Information
Format: Paperback / softback
Pages: 232 pages
Publisher: Taylor & Francis Ltd
Publication Date: 18/10/2018
Category: Development studies
ISBN: 9780367109431