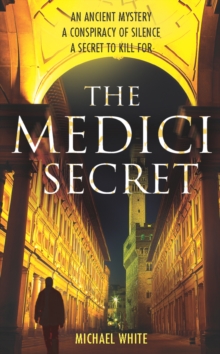 The Medici Secret
Paperback
Description
In the crypt of the Medici Chapel in Florence, palaeopathologist, Edie Granger, and her uncle, Carlin Mackenzie, are examining the mummified remains of one of the most powerful families in Renaissance Italy. The embalmers have done their work well in terms of outward appearance.
But under the crisp skin, the organs have shrivelled to a fraction of their original size, which means it is difficult to gather a usable DNA sample.
Edie and Mackenzie both have serious doubts about the true identity of at least two of the five-hundred-year-old bodies. And no one can explain the presence of an alien object discovered resting against Cosimo de Medici's spine. For Carlin Mackenzie, this is the most fascinating and the most dangerous discovery of his life.
For Edie, it is the beginning of an obsessive, life-threatening quest. With all the dramatic twists and turns that made EQUINOX such a huge international success, THE MEDICI SECRET meshes past and present, cryptic clues and constant menace to produce a mystery thriller that does not relax its grip for one single moment.
Information
Format: Paperback
Pages: 416 pages
Publisher: Cornerstone
Publication Date: 01/02/2008
Category: Crime & mystery
ISBN: 9780099520184
Free Home Delivery
on all orders
Pick up orders
from local bookshops
Reviews
Showing 1 - 3 of 3 reviews.
Review by Twynnie
16/06/2015
This is a rather silly Da Vinci code style thriller in which characters in both the 21st and 15th centuries end up on a quest for an ancient secret, which any number of bad guys seem to be willing to kill for. It was fun read but it was extremely silly and full of clichés. Here's a list of a few sillinesses:-Cosimo de Medici is interested in only the good of humanity , furthering human knowledge etc. etc, He's not interested in money at all. Right….-His wife-to-be is some kind of superhuman wonderwoman type character, she's more educated than he is and is a dab hand at killing bad guys. At least the author admits in his notes that this is entirely fictional!-In the present day storyline we have the typical teenager with issues/innocent child character who is there only so her life can be continually threatened. Poor old Rose, not only have her parents split up but she has to spend her summer having a gun held to her head by comic book villains.-Roberto – he knows everyone in Venice, apparently has 'pure Oxbridge' English, but calls people babe, and he can work out ancient clues in double time even after getting shot-The villains – one is a bad cop, one is the standard expendable assassin and the guy in charge got lost on the way to the casting for Bond film. In his favour, his evil headquarters as described (looking out over Green Park) could be my office, which made me rather too excited. -The secret itself. But that is just too silly for words, and I don't want to ruin it for anyone.Anyway, don't let this put you off, it was a fun read and will probably suit Da Vinci code fans very well.
Review by rincewind1986
16/06/2015
I remember when i read this i really enjoyed doing so. However trying to write a review now i am really struggling to remember much about the book, which i suppose says it all. Yes i enjoyed it but it left no mark, so take it on holiday and read it by the pool, but dont expect a life changing experience becase it isnt there.
Review by mrn945
16/06/2015
The plot revolves around the Medici family, namely Cosimo. It asserts that Cosimo had a deep dark secret which is coming to light during an excavation on his grave in Florence. The action takes us to Venice and modern Macedonia, with flashbacks to Cosimo and his family/friends.My first problem with the novel - the flashbacks. Normally flashbacks are to help the readers understand what's happening, or perhaps more than what the main characters know about what's happening. Instead, these flashback would reveal information, and then miraculously, the main characters would discover the same information and understand it nearly completely immediately. Given the large time gap, this seems rather implausible.My second problem is that the 'clues' given during the quest for the Medici secret. I found it rather unbelievable (and I'm more than willing to suspend belief when reading) that so many people knew all about the clues but never figured out the secret.My third and final problem is the secret itself. It wasn't that interesting. I was hoping for something exciting given that there was an attempt to build-up the anticipation. I don't want to ruin the surprise in case someone does wish to read this book, but it was sort of....well....anti-climatic and boring.So, needless to say, I was a bit disappointed with this book. I may give the author a try again, as I do think this could have been a decent book. So, feel free to read it if you like, but this is one book I don't feel obligated to recommend to family and friends.