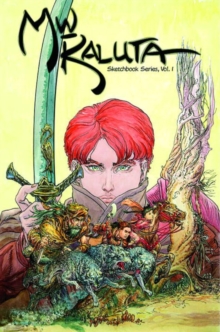 Michael Wm. Kaluta: Sketchbook Series Volume 1
Paperback / softback
Description
Michael Wm. Kaluta has been creating beautiful imagery for more than 40years.
Highlights of his career include what many consider to be the definitiveversion of The Shadow, the still in-progress Starstruck, and amyriad of stunning covers illustrated for nearly every comics publisher -as well as being part of the legendary STUDIO (along with Jeffery CatherineJones, Barry Windsor-Smith, and Bernie Wrightson).
This sketchbook is the firstin a series that will provide a glimpse into the inner workings of this greatartist, from the very earliest creative spark to more finished concepts andnearly completed works.
Each image has been scanned from Kaluta's personalsketchbooks and archives, and is accompanied by commentary from theartist.
Information
Format: Paperback / softback
Pages: 48 pages
Publisher: Idea & Design Works
Publication Date: 03/04/2012
Category: Comics and Graphic Novels
ISBN: 9781613771365