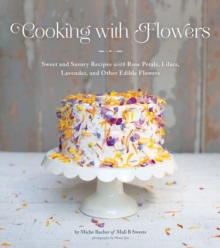 Cooking With Flowers
Hardback
Description
Bring simple, fresh flower recipes to your kitchen table!
Edible flowers are abundant and easy to cook with but are often overlooked as being intimidating or too fancy. "Cooking with Flowers" is filled with special confections and easy everyday treats that everyone will love, from jewel-toned Violet Jam and pretty pink Lavender Lemonade to Pansy Petal Pancakes and Carrot Sunflower Cake.
In this book, you'll find easy-to-follow recipes and beautiful photographs, as well as the fascinating history and meaning of flowers, tips and tricks for finding, cleaning, and preparing edible blossoms.
This essential guide covers all the classic uses for farm-fresh, seasonal flowers-whether they're sourced locally or plucked from your very own garden.
Information
Format: Hardback
Pages: 160 pages
Publisher: Quirk Books
Publication Date: 18/03/2013
Category: Cookery by ingredient
ISBN: 9781594746253
Free Home Delivery
on all orders
Pick up orders
from local bookshops
Reviews
Showing 1 - 2 of 2 reviews.
Review by stephanieloves
16/06/2015
Miche Bacher of the famed Mali B Sweets brings us this gorgeous, wonderfully written cookbook on the culinary usage of flowers. There are dozens of flowers mentioned in this collection, including ones I encounter regularly such as dandelions, geraniums, herbs, and roses, as well as a few I hadn't even heard of prior to reading Cooking with Flowers, such as nasturtiums, hollyhocks, and elderflowers.Each flower has it's own "chapter," making finding recipes you want as easy as ever. I also love how each section has a brief background history of the flower, as well as its culinary uses, flavors, seasonality, preparation instructions, and proper units of measure. Now, my expectations of this book were a little different—I thought at first that it would show me how to actually use flowers as food, such as flower soups, casseroles, sautées, etc., but for the most part, they are not an integral part of the recipes in which they are featured. The majority of the recipes only use flowers as decor; otherwise, they can be easily replaced by a non-flower ingredient (e.g. the various flower jellies that are pretty much regular jellies but use flowers instead of fruits). I'm not disappointed, though! This was an unexpected, and rather aesthetically pleasing new experience.My only reservation is how there are no step-by-step pictures. Maybe it's because I'm an awfully visual person, but the long chunks of text made it difficult for me to follow the steps for some of the recipes I tried out. Other than that, this book is a must for the natural food lover, and for gift-giving!Pros: Magnificent photographs // Impressive number of diverse, colorful recipes // Sturdy, refreshing matte-cover hardbound book—great for the kitchen and the coffee table! // Beautiful graphics and text // Organized by flower, with so many to discover and try Cons: No step-by-step pictures // Recipes aren't groundbreaking in uses for flowers; most of them use flowers as edible decoration, for seasoning, or for pigmentVerdict: Cooking with Flowers isn't terribly inventive in its recipes—for the most part, flowers have superfluous roles, serving as cake/cookie/bread toppings or just as flavoring, akin to the function of herbs—but that doesn't make Miche Bacher's new cookbook any less enjoyable. I love the stunning photographs and the organization of the types of flowers used. Do pick this one up when you get the chance; it's definitely a keeper! 8 out of 10 hearts (4 stars): An engaging read; highly recommended.Source: Complimentary copy provided by publisher in exchange for an honest and unbiased review (thank you!).
Review by BrokenTeepee
16/06/2015
I have had flowers in salads before but I have never considered them for much more than pretty additions to salads or as cake decorations. This book has opened my eyes to a world of possibilities. I had no idea that flowers could be used for so many different results. They can be infused for teas, made into jellies and added to muffins. You can even use the flowers from your herb plants. Such fun to be had. I'm now trying to convince the hubby that I need flowers planted. So far he is just rolling his eyes at me, but a girl can hope!We do have a load of dandelions growing and for the most part they are used as goat fodder. They do love them! Perhaps I might sneak out and pick some to try in one of the recipes in this book. The recipes are written in an easy to follow manner and many of them can be adapted for tasty treats without the flowers. There are quite a few recipes for squash blossoms and I will have a lot of them come summer and I will assuredly give them a go when I have the flowers on hand. Despite my best efforts the hubby keeps planting three mounds of zucchini so I have more than I need. The squash blossom quesadillas sound really tasty. April is just not a flowering time of year for Montana.The photos are gorgeous and showcase each recipe beautifully. I love a cookbook with lots of pictures. It makes it so much easier to compare what you make to what the author intended.