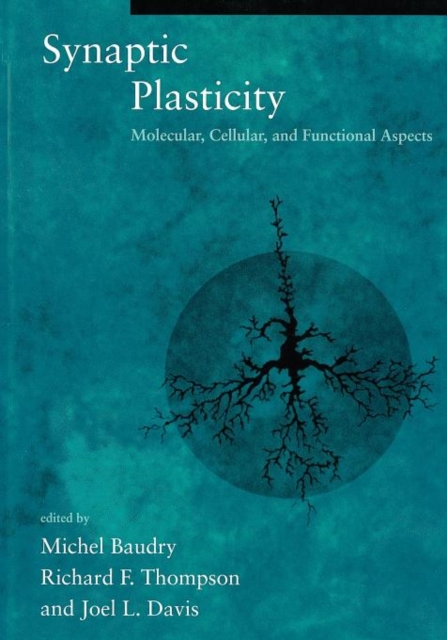 Synaptic Plasticity : Molecular, Cellular, and Functional Aspects
Paperback
Description
Synaptic Plasticity presents an up-to-date overview of the current status of research on the full scope of synaptic plasticity, including synaptic remodeling in response to damage, long-term depression and long-term potentiation, and learning and memory.The contributions are written by leading experts in the field and cover approaches from biochemical, anatomical, physiological, behavioral, and computational levels.
They offer hypotheses concerning the molecular and cellular mechanisms that are responsible for the various manifestations of synaptic plasticity and propose models explaining how these cellular events can be linked to the functional and behavioral expressions of these adaptive principles.Michel Baudry is Associate Professor in the Department of Biological Sciences at the University of Southern California.
Richard F. Thompson is Director of the Neuroscience Program and Keck Professor of Psychology and Biological Sciences at the University of Southern California.
Joel L. Davis is Scientific Officer for Computational Neuroscience at the Office of Naval Research.Contents: Introduction.
Molecular Correlates of Activity-dependent Development and Synaptic Plasticity, S.
Hockfield. Molecular Sorting in Neurons, 0. Steward. Molecular and Morphological Responses to Deafferentation in Rodents, C.
E. Finch, T. H. McNeill. Forms of Long-term Potentiation Induced by NMDA and Non--NMDA Receptor Activation, T.
Teyler, L. Grover. Long-term Potentiation: Biochemical Mechanisms, M. Baudry, G. Lynch. Cerebellar Mechanisms of Long-Term Depression, M. Ito. Long-term Depression: Related Mechanisms in Cerebellum, Neocortex, and Hippocampus, A.
Artola, W. Singer. Theory of Synaptic Plasticity in Visual Cortex, N. Intrator, M. F. Bear, L. N. Cooper, M. A. Paradiso. A Theoretical and Experimental Strategy for Realizing a Biologically Based Model of the Hippocampus, T.
W. Berger et al. Synaptic Plasticity, Learning, and Memory, S. P. Rose. Synaptic Plasticity and Memory Storage, R. F. Thompson et al.
Information
Format:Paperback
Pages:274 pages
Publisher:MIT Press Ltd
Publication Date:01/01/2003
Category:
ISBN:9780262517010
Information
Format:Paperback
Pages:274 pages
Publisher:MIT Press Ltd
Publication Date:01/01/2003
Category:
ISBN:9780262517010