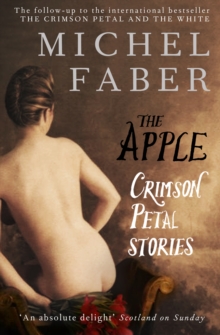 The Apple : Crimson Petal Stories
Paperback
Description
The Crimson Petal and the White is one of the best-loved novels of recent years.
Now a major BBC TV drama, it captured hearts and left readers desperate for more.
In The Apple, Faber returns to Silver Street to find it still teeming with life, and conjures further tantalising glimpses of Sugar, Clara, Mr Bodley and many other favourites.
Information
Format: Paperback
Pages: 224 pages
Publisher: Canongate Books Ltd
Publication Date: 07/04/2011
ISBN: 9780857860859
Free Home Delivery
on all orders
Pick up orders
from local bookshops
Reviews
Showing 1 - 5 of 5 reviews.
Review by sunjata
16/06/2015
Felt very slight after The Crimson Petal. I did enjoy the Clara story and the second Sugar prequel was a nice insight into how determined she was, not just for a man like William Rackham to appear, but for her to be ready to exploit it. The book overall was a bit meh, but most things would be having just read the first novel.
Review by rolhirst
16/06/2015
Just before the recent TV adaptation aired, I reviewed Michel Faber's excellent novel The Crimson Petal And The White and predicted..."For all its excellent cast (including the always watchable Chris O'Dowd, Richard E. Grant and - yay! - Scully), sparkling script, grubby period detail, kinky costume drama romping and acres of naked flesh and naughtiness... it's not a patch on the novel."Well, I couldn't have been more right. As enjoyable as the TV version may have been, I still walked away unsatisfied. The pictures are always better inside your head.Thankfully, that's when I discovered The Apple, a short collection of stories which return us to the world of The Crimson Petal, offering tantalising glimpses into the past and future of our favourite character's. So we learn how Sugar spent Christmas Day while she was still living in Mrs. Castaway's whorehouse, discover how a common housefly destroys Bodley's libido, and find out how young Sophie grows up to become a champion of women's rights. And while William Rackham grows old and bitter, Clara, his former maid takes to the street to survive and ends up involved in a darkly comic dalliance with The Rat Man, who insists she let one fingernail grow without being cut or chewed...Imagination, revelation, wit, warmth and sparkling prose. If you enjoyed the novel, or even the TV adap, I'd recommend you track down a copy of The Apple.
Review by Beamis12
16/06/2015
As with all short stories, I enjoyed some more than others. Have never read his Crimson Petal book, but I will now as I am intrigued, since he used the same characters in that novel in these short stories.
Review by SparrowByTheRailStar
16/06/2015
I only just discovered Faber's follow up of sorts to The Crimson Petal and the White, years after I finished the original book. After reading the former, and left wanting more, I was thrilled to discover The Apple, but a little disappointed by it's novella-length.The Apple is a compilation of short stories, which serve as either prologues or epilogues to some of the characters in The Crimson Petal and the White. The stories are just as fantastic and engaging as the first one was, but aside from the story of Sophie's son, very short. They're less story, and more glimpses- though this is something Faber does best; making you feel a bit like a voyeur, just chancing upon the daily going-ons of strangers.It's this style of writing that left a lot of unanswered questions and what if's with the novel; The Apple does follow up with some of them, but still leaves a lot of questions unanswered and a lot of open road, should Faber ever decide to return to these characters (a girl can dream).If you didn't read The Crimson Petal, The Apple might seem disjointed- but most short story collections are so. If you read The Crimson Petal and liked it- or read it and didn't really know if you liked it, but still made it through the whole thing- you owe it to yourself to read The Apple. It won't consume nearly as much time (to my dismay), but might provide some closure.
Review by Cassandra2020
02/03/2016
Having recently finished reading Crimson Petal, I couldn't wait to read the follow up short stories in The Apple and I wasn't disappointed!<br/><br/>Just a handful of stories sees us re-visiting Sugar in her life pre-Crimson, Clara, Mr Bodley, William and, indirectly, Sophie all post-Crimson. So good to see what had become of them and interesting to see if they matched my own hopes and perceptions (largely they did!). My only detraction from the book was that I wanted more. After the weighty tome that was Crimson Petal, this was lightweight and I read it in less than a day (part during the evening, the rest on the train to work the next day). Hugely enjoyable, but left me wanting more.<br/><br/>Will now have to dig out more of Michel Faber's writing to see whether his other work lives up to these two books.