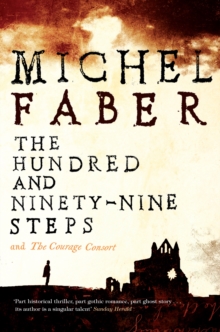 The Hundred and Ninety-Nine Steps: The Courage Consort
Paperback
Description
Sian, troubled by dark dreams and seeking distraction, joins an archaeological dig at Whitby.
The abbey's one hundred and ninety-nine steps link the twenty-first century with the ruins of the past and Sian is swept into a mystery involving a long-hidden murder, a fragile manuscript in a bottle and a cast of most peculiar characters.
Equal parts historical thriller, romance and ghost story, this is an ingenious literary page-turner and is completely unforgettable. THIS EDITION ALSO FEATURES MICHEL FABER'S NOVELLA THE COURAGE CONSORT
Information
Format: Paperback
Pages: 272 pages
Publisher: Canongate Books Ltd
Publication Date: 01/04/2010
ISBN: 9781847678911
Free Home Delivery
on all orders
Pick up orders
from local bookshops
Reviews
Showing 1 - 3 of 3 reviews.
Review by passion4reading
16/06/2015
The Hundred and Ninety-nine Steps tells the story of Sian, an archaeologist involved in a dig at Whitby Abbey who has to climb the 199 steps of the title from her hotel to the top of the cliff every day to get to work.I was taken in by the blurb on the cover and with the slogan: 'Part historical thriller, part gothic romance, part ghost story...'; with the plot set in Whitby, who wouldn't be? From the reviews I got the impression that here was a notable literary talent but I'm afraid I couldn't see any evidence of it. It is true that the descriptions of Whitby, its abbey, St Mary's Church and the 199 steps are quite atmospheric, just a shame that there's so little of it. There are hardly any local characters featuring in it, and when they do, they only play minor parts as staff in the hotel or in the mission and seafarer's centre. The character of Magnus, intended as a romantic interest, is just incredibly irritating, and as to his dog, Hadrian, how many ways are there to stroke a dog? The mystery of the confession in the glass bottle and its gradual revelation does add some interest, but I wish that someone had told the author that there is no blood flow after death. Magnus as a physician should have spotted that immediately after the final twist, but then there wouldn't have been the necessary ambiguity that was needed before, so why make him a doctor and not any other professional? I also refuse to believe that Bosnia during the war had no proper radiology equipment, otherwise the Bosnian 'souvenir' that troubles Sian so much would have been detected long ago. At first I was quite appalled at the level of violence present in Sian's dreams and described in great detail, the author himself falling victim to the 'modern fascination with psychopaths and sick deeds' that he bemoans with her voice, until I remembered one reviewer suggesting what Sian's surname might be, and then it begins to make sense. As the name is only passed down the generations in the male line, this seems unlikely as there aren't any sons mentioned in the confession, only another daughter, but the sentiment behind it rings true, bringing the historical mystery full circle. Unfortunately the prevailing feeling was that the author had tried to be too clever for his own good and had failed to address a few logical plot holes, and the ending is left so vague that we cannot be sure of the author's intentions.Included in this edition is the novella 'The Courage Consort', a story about a professional singing ensemble who spend a fortnight in a secluded cottage in Belgium to rehearse.At 145 pages it is rather too long, the cast of characters not very likeable and the descriptions of their stay in the Chateau de Luth downright boring. Apart from Catherine, a suicidal soprano, there is virtually no character development and the remaining individuals remain sketchy, some bordering on cliches and stereotypes (the self-obsessed composer, the repelling video artist). Dagmar, the German contralto, is constantly being referred to as 'the German girl', thereby setting her apart from the rest of the ensemble and emphasizing her foreignness, but also giving the impression as if the author couldn't think of any other description for her; after the third time it got rather annoying (I found the phrase twelve times). The mini-bus in which they're all picked up and then returned to the airport is referred to as 'banana-yellow' three times, giving the overall sense of sloppiness and, to be honest, a severe lack of imagination. In my opinion the novella is slightly redeemed by its unexpected and rather poignant ending.
Review by imyril
16/06/2015
Disappointing - I hadn't realised this was a collection of two previously published novellae, and was expecting a full-length novel. Doubly disappointing as The 199 Steps was neither as well-written nor as gripping as Under the Skin or The Crimson Petal and the White. The modern-day characters were hastily-sketched and lacked vitality or credibility. While the historical tale was intriguing, the novella feels like a missed opportunity. The Courage Consort also failed to capture my interest; the characters here equally unlikeable and uninteresting.
Review by AdonisGuilfoyle
27/08/2015
I really only wanted to read this story because of the author - I loved <i>The Crimson Petal</i>, many moons ago - but I'm glad that I borrowed and didn't buy a copy, because I would have been paying for half a book! I don't mind novellas, I just didn't note the page length.Another reason I'm glad I didn't pay for the honour is simply that the plot and characters - bar the dog, maybe - are completely forgettable. An archaeology student staying in Whitby meets a man who asks her to help solve the mystery of his late father's message in a bottle, which turns out to be a confession (of course). She is battling physical and romantic demons, he - well, he has a dog. That's about it. I wanted to feel a connection with Sian, mainly because I'm about the same age and interested in history too, but she was just too much of a drama queen. The guy, Mack, is little more than a good-looking plot device. I would have adopted his dog in a heartbeat, though! Great sense of setting, intriguing historical puzzle, flat characters. Not a bad way to pass a couple of hours, but borrow don't buy.