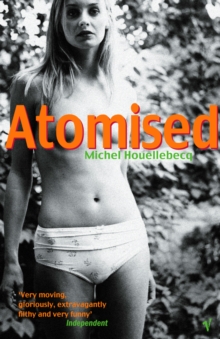 Description
Half-brothers Michel and Bruno have a mother in common but little else.
Michel is a molecular biologist, a thinker and idealist, a man with no erotic life to speak of and little in the way of human society.
Bruno, by contrast, is a libertine, though more in theory than in practice, his endless lust is all too rarely reciprocated.
Both are symptomatic members of our atomised society, where religion has given way to shallow 'new age' philosophies and love to meaningless sexual connections.
Atomised tells the stories of the two brothers, but the real subject of the novel is the dismantling of contemporary society and its assumptions, its political incorrectness, and its caustic and penetrating asides on everything from anthropology to the problem pages of girls' magazines.
A dissection of modern lives and loves. By turns funny, acid, infuriating, didactic, touching and visceral.
Information
Format: Paperback
Pages: 384 pages
Publisher: Vintage Publishing
Publication Date: 01/03/2001
ISBN: 9780099283362
Free Home Delivery
on all orders
Pick up orders
from local bookshops
Reviews
Showing 1 - 5 of 6 reviews.
Previous | Next
Review by atyson
16/06/2015
I found the continual switching between accounts of the character's lives and cultural history didn't work for me. The change of tone was a bit incongruous and I felt like I would rather be reading one or the other. Also, there is a lapse into horror where the author seems simply to going for the jugular. There are lots of intriguing observations on sexual behaviour along the way. But the whole endeavour is finally mitigated by the last chapter and epilogue which puts all that has gone before into a chilling perspective. What started out to me seeming like a rather old-fashioned existential novel ended up a timely update on Brave New World.
Review by Abi78
16/06/2015
The first time I read this book I was bowled over by its brilliance and moved to tears, I think becuse the characters are so flawed and so real. I could especially identify with Annabelle and was quite shaken by the similarity of a lot of her thoughts and feelings to my own. However, a recent re-read left me fairly cold. I don't know why this is. Agreed, there's a lot in the book that's horrible (but that's never put me off before)and the science is most likely very dodgy, but I still can't really account for my changed reaction. Very strange.
Review by stillbeing
16/06/2015
I just finished reading this one yesterday, and I really enjoyed it, though I can't seem to put my finger on why. In some ways clinical, others humourous, and yet quite bleak and at times tragic, I found I couldn't quite second guess what was about to happen and it really kept me wanting to know what was going to happen next. I don't often read when I get home from work, but I pulled this one out almost every evening, so that really says something.The main drawback, I think, was that both brothers could have been explored a lot more fully. It always felt that one was being highlighted to the neglect of the other, and I felt, at the end, that there was so much I still didn't know about the characters that I would have liked to have found out. I also would have liked to have known more about Bruno's ultimate demise, since we get to find out about everyone elses; he seemed to have been conveniently brushed aside at the end, which was a shame as he deserved a bit more finality.
Review by paulharryallen
16/06/2015
A marvellous yet confusing book telling the tale of two brothers yet managing to include points about social structure and quantum physics.
Review by mrtall
16/06/2015
Atomised is a beautifully-written treatment of one of the harshest messages in contemporary fiction. It's the story of half-brothers (their slatternly hippie mother is their common progenitor) who are formed by the emotional paucity of their upbringing (each of their fathers abandons them), but who turn out as polar opposites in many ways. Michel is a scientist; he's reserved, emotionally cold – almost an automaton. Bruno, on the other hand, tries to assuage his wounds through rampant sex; although he's drawn mercilessly as a sexual inadequate, he's never the less obsessed with the act.Houellebecq charts the lives of these two damaged specimens through a combination of conventional narrative and faux-scientific third-person analytic reportage, in which the two men are discussed in a tone usually reserved for fruit flies and vivisected rats. But this is a powerful book. Although it's hard to read at points – both for its brutal, ugly depictions of debased sexuality, and for its profound sadness – it rewards attention. Atomised is the first draft of a suicide note for western civilization. I can only hope enough people read it with open eyes and minds in time to stave off its potential consummation.