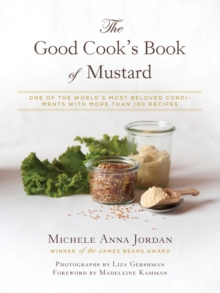 The Good Cook's Book of Mustard : One of the World's Most Beloved Condiments, with more than 100 recipes
Hardback
Description
"Some single, simple things, like mustard, have a wealth of history and a path of stories, usually known only to a few. . . . Even if you don't think you're interested in mustard, after reading this delightful book, you will be!" Deborah Madison, The Savory WayThe sharp, bright taste of mustard has been used to enhance food for centuries, and all the varieties from the classic yellow French's and the traditional Dijon to the more exotic flavored mustards are widely available to home cooks everywhere.
The Good Cook's Book of Mustard, an installment in the expertly researched and newly updated culinary series of the Good Cook's Books, not only explains the history of this versatile condiment, but also shows how to use it to add flavor to your meals. Here, you will find a comprehensive collection of imaginative sauces, appetizers, salads, soups, main courses, condiments, and even desserts, as well as a section devoted to the process of making mustards at home.
Recipes include:Rock Shrimp with Remoulade SauceCream of Mustard SoupGrilled Tuna with Black Bean, Pineapple, and Serrano-Cilantro MustardPork Loin with Apricot-Mustard GlazeChickpea Salad with Mustard-Anchovy VinaigretteSpicy Toasted PecansAnd moreSkyhorse Publishing, along with our Good Books and Arcade imprints, is proud to publish a broad range of cookbooks, including books on juicing, grilling, baking, frying, home brewing and winemaking, slow cookers, and cast iron cooking.
We've been successful with books on gluten-free cooking, vegetarian and vegan cooking, paleo, raw foods, and more.
Our list includes French cooking, Swedish cooking, Austrian and German cooking, Cajun cooking, as well as books on jerky, canning and preserving, peanut butter, meatballs, oil and vinegar, bone broth, and more.
While not every title we publish becomes a New York Times bestseller or a national bestseller, we are committed to books on subjects that are sometimes overlooked and to authors whose work might not otherwise find a home.
Information
Format:Hardback
Pages:336 pages, 30 color photos
Publisher:Skyhorse Publishing
Publication Date:21/05/2015
Category:
ISBN:9781632205865