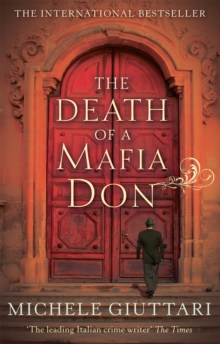 The Death of a Mafia Don
Paperback
Description
A bomb explodes in the centre of Florence, hitting the car of Chief Superintendent Michele Ferrara of the elite Squadra Mobile.
The attack rocks the ancient city to its foundations.
Ferrara was clearly the target - and he did, after all, just controversially imprison notorious Mafia boss Salvatore Laprua.A week later, another bomb explodes - bringing tragedy for Ferrara and a determination to find the culprit.
But that same morning, Salvatore Laprua is found dead in his prison cell.
So who is the mysterious influence behind the bombings - someone even the Mafia fear?An ingenious, gripping mystery, The Death of a Mafia Don has been a bestseller in Italy and across Europe.
Written by former Florence police chief Michele Giuttari, it offers a fascinating insight into the secret world of the Mafia, and life in Florence.Originally published in Italian as Il Basilico.
Information
Format: Paperback
Pages: 384 pages
Publisher: Little, Brown Book Group
Publication Date: 22/07/2010
Category: Crime & mystery
ISBN: 9780349121970
Free Home Delivery
on all orders
Pick up orders
from local bookshops
Reviews
Showing 1 - 3 of 3 reviews.
Review by reading_fox
16/06/2015
Poor - despite an interesting plot line. Maybe it's the translaion, but somehow it feels more liek the original text was just never that good. Not helped by some bizarre Italien police procedures, that again feel more like poor writing, rather than shoddy policing. However I'm not familiar enough with Italien culture to determine which is the cause. Although this is apparently yhr third of a series, it is readable enough as a standalone - and I doubt the defencies are owing to my unfamiliarity with the rest of the characters.The story opens sometime shortly after 11th Sept 2001 with the lead detective of the never explained <i>Squadra Mobile</i> travelling to work, and only through chance avoiding being severely injured by a car bomb. It would have been useful at some point in the story to know exactly what SM's remit and limitiations are. Maybe it is a standard Italien Police squad somewhat akin to the Flying Squad, or maybe it's a more dedicated anti-Mafia investigative unit - native may well know, but it would have been useful if the translator had included some notes. There are immidiately a few key theories - its a new terrorist outrage and Ferrara is involved by chance, or it is a more deliberately targetted attack in revenge for Ferrara's previous work (presumably the earlier novels in the series) in jailing a Mafia mastermind. A confusing mish mash of different agencies try and stake their turf depending on which agenda they prefer. Given that all the characters seem to have similar names and voices this gets very confusing - and worse the narrative jumps over several voices without much warning.Each character seems very similar, and this isn't helped by the telling of the plot rather than showing.Police procedure s- only wiretaps. Shame - it was a potentially clever plot, that a better storyteller could have done a lot with.TBC
Review by everfresh1
16/06/2015
Decent plot and and first hand knowledge of subject matter does not hide the fact that author simply cannot write. It makes 'Da Vinchi Code' a high literature masterpiece.
Review by maneekuhi
16/06/2015
"The Death of a Mafia Don" (DMD), 4 1/2 stars, is the third in a series of six books by Italian Michele Giuttari about Michele Ferrara, a Florence based police officer. Ferrara is seriously injured in a car bombing, and while he is recovering, his team investigates the incident and soon discovers a Mafia connection. There is soon another assassination attempt but on another official, and this one is successful bringing more pressure on the team and Ferrara out of the hospital. At this point, the focus shifts to a horde of Mafia characters (you might want to take notes on names and places). The pace and tension are good, and the characters are well drawn, but I must admit it got a bit confusing for me as there were a number of twists and a number of agendas. But I am presuming that was the author's intention - to give the reader a sense of the investigator's frustrations in trying to get a clear picture of events. Then there was a scene that made me think I was watching a clip from the tail end of "The Godfather" (not that there's anything wrong with that, actually it was rather well done). This is my first Giuttari book and I will read others - perhaps books 4, 5, 6 for starters since I've jumped into the middle of the series and know some character history. Close to 5 stars but no cigar.
Also in the Michele Ferrara series | View all