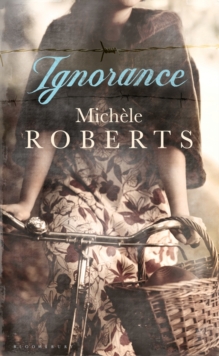 Description
After every war there are stories that are locked away like bluebottles in drawers and kept silent.
But sometimes the past can return: in the smell of carbolic soap, in whispers darting through a village after mass, in the colour of an undelivered letter.
Jeanne Nerin and Marie-Angele Baudry grow up, side by side yet apart, in the village of Ste Madeleine.
Marie-Angele is the daughter of the grocer, inflated with ideas of her own piety and rightful place in society.
Jeanne's mother washes clothes for a living. She used to be a Jew until this became too dangerous.
Jeanne does not think twice about grasping the slender chances life throws at her.
Marie-Angele does not grasp; she aspires to a future of comfort and influence.
When war falls out of the sky, along with it tumbles a new, grown-up world.
The village must think on its feet, play its part in a game for which no one knows the rules.
Not even the dubious hero with 'business contacts' who sweeps Marie-Angele off her feet.
Not even the reclusive artist living alone with his sensual, red canvases. In these uncertain times, the enemy may be hiding in your garden shed and the truth is all too easily buried under a pyramid of recriminations.
Michele Roberts's new novel is a mesmerising exploration of guilt, faith, desire and judgment, bringing to life a people at war in a way that is at once lyrical and shocking.
Information
Format: Hardback
Pages: 240 pages
Publisher: Bloomsbury Publishing PLC
Publication Date: 10/05/2012
ISBN: 9781408816004
Other Formats
Paperback from £6.15
EPUB from £6.39
Free Home Delivery
on all orders
Pick up orders
from local bookshops
Reviews
Showing 1 - 2 of 2 reviews.
Review by lit_chick
16/06/2015
"She and I had been sort-of friends once. No longer. She had too much of everything, and I didn't have enough." (186)In WWII, in the German-occupied village of Ste-Madelaine, France, Marie-Angele Baudry and Jeanne Nerin grow up side by side – "sort-of friends." Marie-Angele is the daughter of the local grocer, her family relatively prosperous. She is righteous, pious, and entitled about the life of comfort she believes to be her right. Jeanne, on the other hand, has only her mother: a laundress and a Jew, who converts to Catholicism when her own faith becomes too dangerous. Jeanne has no rightful place in the world, particularly not this world. Survival will require all of her resourcefulness.When war falls out of the sky, Marie-Angele falls easily for Maurice Blanchard, finely dressed, well endowed with "business contacts," and smelling of money. In pursuit of life's finery, Marie-Angele marries Blanchard, choosing to believe that he is an employee at the town hall. For Jeanne, life's opportunities appear very differently. She becomes a maid at a nearby brothel, and, as are so many like her, she is eventually reduced to selling her body in the hope of living through the war:"When, at school, I cried in public, the nuns used to command me: pull yourself together. So I did that. My unraveled self. I picked up my dropped stitches. Hands piled with emptiness. I wanted my mother. I wanted kindness wrapping round me soft as new knitting wool. Everybody in this house needed so much kindness but they didn't get it and never would." (188)Ignorance is very lyrically, sensuously written: biting cold, ravenous hunger, the stench of mold; and, conversely, fine silk, oil paints, lily-of-the-valley cologne. The title is perfect in its ambiguity: most glaringly, the "ignorant" Marie-Angele fails to draw the obvious parallel between herself and Jeanne: each prostituting their bodies, one for finery, and the other for survival. Roberts explores guilt, faith, desire, and judgment, and always there is the sense of hope – the sense of what will be "after the war.""I climbed into bed. After the war I'd return to Ste-Marie, take proper care of my mother. After the war I'd find Emile again. After the war we'd live together with our child. After the war I'd try to find out what happened to those lost ones, whose names I could not speak." (198)
Review by SandDune
16/06/2015
This book reminds me very much of the only other book by Michele Roberts that I have read: Daughters of the House. Both are set in a small French town and are presented from the point of view of two different women looking back on their shared experiences as children. Both look at the French experience in the Second World War in general and the treatment of Jews in particular. In both the memories of the individual and the collective memory of the community are seen to be flawed. But whereas Daughters of the House was a carefully constructed book with a satisfying conclusion, this book, although beautifully written, seemed to drift in its second half and in the end was slightly unsatisfactory.Ignorance tells the story of Jeanne, the daughter of a widowed charwoman and Marie-Angele, the daughter of more prosperous shopkeepers for who Jeanne's mother works. Thrown together by the illnesses of both their mothers which causes them to become temporary boarders at the convent school which they attend (Marie-Angele paying, Jeanne a charity case and not allowed to forget it) they become almost friends. And although their subsequent lives follow very different paths, they continue to be intertwined. And through their lives we see the day to day reality of the German occupation of the two small towns of Ste-Madeleine and Ste-Marie-du-Ciel: the compromises and adjustments and betrayals which the townspeople make to survive.Ignorance is the key theme of the book: ignorance of infidelity, of a mother's love and above all the collective ignorance of the population at large who prefer to close their eyes rather than see what is going on around them. But the characters felt a little stereotyped and one dimensional and so overall Ignorance didn't quite seem to live up to the promise of its ambitions.