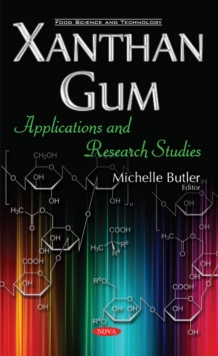 Xanthan Gum : Applications & Research Studies
Hardback
Description
Xanthan gum is a microbial heteropolysaccharide of high molecular weight produced through fermentation by bacteria of the genus Xanthomonas that have a wide range of applications in food and non-food industries due to their physical properties and rheological characteristics.
In this book, the first chapter discusses the characteristics, properties, and the use of xanthan gum in the food industry.
Chapter Two provides a review of the use of xanthan gum in the nixtamalisation process.
Chapter Three focuses on the application of xanthan gum to formulate sustained release tablets and floating drug delivery systems.
Chapter Four interprets and models the rheological behavior of oil-in-water emulsions stabilised singly with xanthan gum or combined with different hydrocolloids, like guar gum or potato starch.
Chapter Five discusses the relevance of xanthan gum to formulate chickpea flour-based gluten-free batters and muffins.
Information
Format: Hardback
Pages: 60 pages
Publisher: Nova Science Publishers Inc
Publication Date: 01/12/2016
Category: Biochemistry
ISBN: 9781536100105