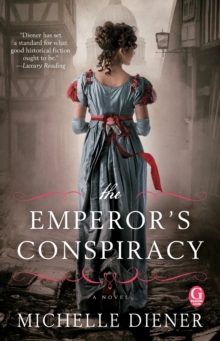 The Emperor's Conspiracy
Paperback
Description
Through good fortune, Charlotte Raven escaped the poverty of the London slums and is now an educated, wealthy Society lady.
But she lives between two worlds, unable to completely turn her back on her old life -- especially Luke, her childhood protector and now a ruthless London crime lord.
When Lord Edward Durnham is asked to investigate the alarming movement of gold out of England, his search leads him to the stews of London, and his recent acquaintance with Charlotte gives him access to a dark world he barely knew existed.
As they delve deeper into that world danger stalks them at every turn, both from unknown foreign agents and from denizens of the underworld, and Charlotte must mediate between her two worlds to form a working alliance to save England.
Information
Format: Paperback
Pages: 336 pages
Publisher: Simon & Schuster
Publication Date: 27/11/2012
Category: Historical fiction
ISBN: 9781451684438
Free Home Delivery
on all orders
Pick up orders
from local bookshops
Reviews
Showing 1 - 5 of 6 reviews.
Previous | Next
Review by BurgandyIce
16/06/2015
*Huge sigh of satisfaction* This is THAT book, the one where history melts into the background, the writing disappears and players emerge spitting character and bold love so that... I sigh.Charlotte - Charlie - is a great character. She's headstrong and intelligent. Her guardian/savior is the sweetest, smartest lady. It's a household of two great brains with different kinds of strength and I loved seeing the strong women.Charlie's childhood friend, the crime lord, is so dark and mysterious and powerful. I loved the dirty grit of the streets and the society that pulsed beneath the city. There's no fluffy cuteness about it... it's as real as poverty. Edward Durnham really doesn't have much of a chance of participating in Charlie's life or in this story, but he's stubborn and persistent and won't take "stay away" as an answer. He causes more trouble than he helps, sometimes, blundering where he doesn't belong. But his heart has been awoken and he understands Charlie in ways no one else can. I love his view of her and their romance is delicate and fresh.I could hug the pacing... this book is hard to put down. It flies by. I might have been frustrated only because it ended and I could have continued reading their story for a long time.My Rating: 5 - I need this book in my library so I can reread it often!! (I rec'd my ARC from Edelweiss.) I love a story that doesn't center around romance, but yet has some... a story that has so much tangible history, but doesn't clobber me with it... a mystery that I can't second-guess and is not overbearing. This is one of my favorite books this year.Like this, Like that... I was reminded a little of Soulless, Alanna, & Crown Duel. There's a bit of mystery and smart players, a great thief and underworld, but also a play-acting society where appearances rule. I loved the smart new combination of some of my favorite elements!
Review by bookofsecrets
16/06/2015
THE EMPEROR'S CONSPIRACY was an enjoyable read filled with mystery, a touch of romance, and rich historical details about London life at the dawn of the 19th century. From the memorable opening chapter to the unexpected ending, the story kept me engaged.England's gold is disappearing fast, and Lord Edward Durnham is assigned to find out who is behind it before the economy suffers. It takes the help of a very unique young woman to put the pieces of the mystery together.I loved the heroine Charlotte Raven. She is not your typical lady of the ton. Not many members of high society spent their childhood as an impoverished chimney sweep like Charlotte. Though rescued by a generous and wealthy woman, she's kept her connections with the seedy side of London. She can't forget her roots, and does what she can to help others. Her ability to blend into both worlds becomes invaluable to Edward's search for answers.One person in particular is not happy about Charlotte's involvement with Edward - crime lord Luke Bracken. Luke was Charlotte's protector during her years in the stews, and he wants nothing more than to have her again. I have to say, I was rooting for Luke. He had such a rough life, and what happened to him was heartbreaking.THE EMPEROR'S CONSPIRACY was a well-written historical mystery, dark at times, but always entertaining. The ending was left somewhat open-ended, so I'm wondering if the author has plans for a sequel? I hope so! I give it 4-stars! Review copy courtesy of Historical Fiction Virtual Book Tours.
Review by daniellnic
16/06/2015
The Emperor's Conspiracy is a fast moving story heavy on the intrigue and history- with a splash of romantic feeling between Charlotte and Edward. It's nicely intertwined with the twisty plot that doesn't neatly fold itself into a particular genre, but straddles several – historical fiction, mystery, a tipple of romance. Charlotte Raven is a particularly appealing character because she doesn't escape the hardship that would have been face by those who lived in poverty. She's adopted around the age of twelve, and though she has the appearance of a gentlewoman she is burdened by the horrors of her past, the life she narrowly escaped and the friends left behind who weren't so lucky. With feet planted firmly in both worlds she navigates the restrictions of her privileged lifestyle and the watchful eye of Luke, a man who still longs for the relationship they shared as younger adults. <br/><br/>Diener based her plot on real life Napoleonic conspiracies to topple the English government, and her novel gives every evidence of careful research. I'll cop to not always knowing what was going on. It is quite detailed, clever and most of all, enjoyable. Recommended.<br/>
Review by cebellol
27/08/2015
The cover of the novel I have reads, "Diener has set a standard for what good historical fiction ought to be." - Luxury Reading; If this is what GOOD historical fiction is, I want nothing to do with it. This novel was lackluster at best. I'd even describe it as severely underwhelming.<br/><br/>The idea of the story is great, but that's about as far as I can go with a complement. The execution was lacking and haphazard, the language painfully simple. Although I'm not sure what the suggested audience is, I wouldn't give it to anyone above an 8th grade reading level. Some of the content, however, would require a slightly more mature audience.<br/><br/>Many areas of the plot seemed forced, although it at least followed a logical progression. Unfortunately, it all seemed too easy. The conspiracy was too easily explained and forgotten about, with tempers turned on one person instead of an entire country. The actions of Lord Durnham also bother me from time to time. I would expect Charlotte Raven (don't even get me started on the name) to not follow all the social protocols of polite society, but she did, for the most part, to a "T". Lord Durnham however, who was raised in England's high society even though he avoided it whenever possible, is the one who breaks social protocol... in PUBLIC for EVERYONE to see. That is unheard of and completely far-fetched, if I do say so myself.<br/><br/>In short, I would not recommend this book, not even as a beach read.
Review by Sarah_Gruwell
27/01/2016
One of the first things that struck me with this book was how it never really lets up with the story-telling and action. From one discovery to the next, the story moves at a brisk pace, leading the reader from one scene to the next with hardly a stop in between. I did like this for the most part as I was always eager to find out the next big surprise. Yet, there were times where I felt a bit overwhelmed. At times, so many people were introduced and just chucked into the story that I had to pause and try to remember where they came from. There were some really nice historical details, though, that bumped this story up in my opinion. Using real events for the impetuous to the story gave it some lovely added depth.I did really like the dynamic between Edward and Charlotte. It was intense and very charged, yet sweet at the same time. I felt that Edward appreciated Charlotte for what she really was, a woman of two worlds who felt tied to both. I liked there weren't any of the cliched misunderstandings that a novel like this could have fallen prey to. Charlotte was very up front with her past from the very beginning, warning Edward's sister to the danger her sons were in. She wasn't afraid to expose her secret to accomplish a good deed, neither was she afraid to expose herself to Edward when it needed to be done. I felt that this added a very honest depth to their relationship and set a tone for mutual cooperation and trust. While at times a bit overwhelmed from the sheer forward moment of the story, I felt this was a novel I could get lost in and love. The characters were wonderfully vivid, the historical details set the scene beautifully, and Edward's and Charlotte's relationship made me smile. Overall, a very well written novel set in Regency England. Very recommended.