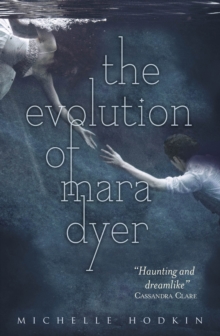 The Evolution of Mara Dyer
Paperback
Description
Mara Dyer knows she isn't crazy. She knows that she can kill with her mind, and that Noah can heal with his.
Mara also knows that somehow, Jude is not a hallucination.
He is alive. Unfortunately, convincing her family and doctors that she's not unstable and doesn't need to be hospitalised isn't easy.
The only person who actually believes her is Noah. But being with Noah is dangerous and Mara is in constant fear that she might hurt him.
She needs to learn how to control her power, and fast!
Together, Mara and Noah must try and figure out exactly how Jude survived when the asylum collapsed, and how he knows so much about her strange ability... before anyone else ends up dead!
Information
Format: Paperback
Pages: 544 pages
Publisher: Simon & Schuster Ltd
Publication Date: 01/11/2012
Category: General
ISBN: 9780857073655
Free Home Delivery
on all orders
Pick up orders
from local bookshops
Reviews
Showing 1 - 5 of 5 reviews.
Review by AboutToRead
16/06/2015
I just really love the Mara Dyer series. Michelle Hodkin just loves playing with us! Is Mara crazy or isn't she? It would appear that this was answered at the end of The Unbecoming of Mara Dyer, but as we find out at the beginning of The Evolution of Mara Dyer, it really wasn't.Mara is just as unreliable a narrator as ever and we constantly have to question what she tells us. Since the entire novel is told from her perspective and we do know that some of the things that she has told us aren't entirely true, we still have to question her sanity. This was by far my favorite part of the novel.The plot isn't particularly action packed, but it still had a heart pounding, suspenseful quality to it because of the situations Mara believes are happening (which may or may not be really happening). By the end of the novel we finally do have an answer to whether or not Mara is crazy, and while it wasn't the answer I wanted, it was still a spectacular read.The secondary characters were less memorable this time around, and while I still love Joseph and like Daniel, Noah did lose a lot of his charm. He is still a great character and I really did enjoy quite a few of the Mara/Noah scenes, but he came across as a bit pompous this time around. He also doesn't really act like a teenage boy. A lot of his comments sound like they are coming from a much older man.The Evolution of Mara Dyer has all of the elements I loved in The Unbecoming of Mara Dyer—an enjoyable cast of secondary characters (even if they weren't quite as strong as the first time around) and a thrilling quest to figure out if Mara is sane or certifiable. It is the perfect story for fans of novels such as Turn of the Screw and Shutter Island.
Review by AmberFIB
16/06/2015
The Evolution of Mara Dyer was one of the best books I've read all year. The ARC has been sitting on my Kindle for awhile, waiting to be read, but between midterms, the GRE, and graduate school applications, I haven't had time to read it. I was missing out, but this book was definitely worth the wait. As most of you know, I wasn't a huge fan of the firs Mara Dyer book, but this novel was much better than the first. This is one story you do not want to miss. I'd recommend The Evolution of Mara Dyer to both fans of the first book and to people like me, who weren't completely sold on the first installment. Mara has always been a fascinating character, but she really came into her own in this novel. I felt like I got to know her much better, and she grew a lot as a character. I now respect her and feel that she does the best she can with what she has to work with. She's not a narrator that's easily trusted, but that makes the novel that much more interesting. I really enjoyed seeing things from her point of view this time around. Noah completely won me over in this book. I absolutely adore him! He's tortured, but not angsty. He's strong and intelligent, and he went to great lengths for Mara. He's just a terrific hero. We also got to know the supporting characters a little bit better this time around, but I still would have liked to learn more about Jamie. He's incredibly interesting. Also, I enjoyed getting to know Daniel better. I would have liked to have seen more of Joseph, but maybe we'll get that in the next novel. The characters seemed, for the most part, well-developed and realistic. The plot was a bit confusing and had a million twists and turns that kept me guessing. Instead of feeling frustrated and lost, like I did with the first Mara Dyer book, I felt intrigued. I couldn't put this book down! I'm not sure if Hodkin changed how she wrote things or if I have just changed as a reader. Either way, I thoroughly enjoyed the non-stop mystery/action/suspense. It ended on another cliffhanger, which I hate, but that's okay. I don't feel like I read this entire book without a purpose. The story moved forward, and I can't wait to see what happens next. Overall, I'd recommend this book to anyone who has read the first Mara Dyer book. If you haven't read the first one, then you'll be lost when you pick this one up. So I suggest everyone go out and buy the first and/or second installment(s) and enter this disturbing world. You won't be sorry.
Review by sharonhd
16/06/2015
Not sure what this is now - paranormal/sci-fi teen romance but I will keep reading to see how it all plays out. I read the author has rewritten the final book and we have a long wait. The cliffhanger is not terrible but it is a cliffhanger. So if that bugs you, wait for the final book before you start this series. Noah and Mara are a unique couple. Very interesting things happen to them that required me to remind myself, let it go it's just fiction who cares if it isn't at all plausible.
Review by margaraawr
16/06/2015
I'm utterly speechless after reading this book. WOW. JUST WOW. I didn't expect to like it very much. I was completely blown away.<br/><br/>I find some things very confusing but maybe the author meant to write it that way. I can't tell how many times I've said "What the hell?" while reading this. I am continuously surprised by the flow of the story. It was never predictable. And I liked it that way.<br/><br/>Mara Dyer is so complicated and I can't describe her properly. Through the story, sometimes, I genuinely thought that she's a psycho. I have so many guesses. But then, my theory would be proven wrong so I just stop and see where the story would lead.<br/><br/>I laughed out loud because of Noah. Yes, Noah Shaw. Is there a more perfect hero than him? He was so adorable. oh my gosh, I am fangirling and I don't care. *insert screaming lunatic gif here*<br/><br/><b> "You like them," I realized. "Like as people."<br/>Noah's eyebrows lifted.<br/>"As opposed to.... Furniture?" </b><br/><br/>Noah was everything you could ask for. <s> And when he blamed himself for not being able to help Mara when she was handled by Jude, MY HEART JUST SIMPLY BROKE WITH HIM. </s><br/><br/>Near the ending, I cried with these characters. I felt their pain and fear that is so raw. Their desperation. Everything is just. Was just. Ugh. Everything was too much. I couldn't breathe. I couldn't think straight. What the hell, Dr. Kells?<br/><br/>In the Evolution of Mara Dyer, I felt every thing. I was terrified. I fell in love. I was terribly sad and frustrated. There's a lot of emotions that I'm still dealing with right now. And I don't know if I'll ever move on.<br/><br/>The ending. Really, why do the authors like torturing their awesome readers by leaving them hanging? I have to wait 4 freaking months, I think. But I know for sure that it'll be worth the wait. If I just knew how to insert GIFs, I would probably flood this with so many. But whatever.<br/><br/>*clapping*
Review by margaraawr
16/06/2015
I'm utterly speechless after reading this book. WOW. JUST WOW. I didn't expect to like it very much. I was completely blown away.<br/><br/>I find some things very confusing but maybe the author meant to write it that way. I can't tell how many times I've said "What the hell?" while reading this. I am continuously surprised by the flow of the story. It was never predictable. And I liked it that way.<br/><br/>Mara Dyer is so complicated and I can't describe her properly. Through the story, sometimes, I genuinely thought that she's a psycho. I have so many guesses. But then, my theory would be proven wrong so I just stop and see where the story would lead.<br/><br/>I laughed out loud because of Noah. Yes, Noah Shaw. Is there a more perfect hero than him? He was so adorable. oh my gosh, I am fangirling and I don't care. *insert screaming lunatic gif here*<br/><br/><b> "You like them," I realized. "Like as people."<br/>Noah's eyebrows lifted.<br/>"As opposed to.... Furniture?" </b><br/><br/>Noah was everything you could ask for. <s> And when he blamed himself for not being able to help Mara when she was handled by Jude, MY HEART JUST SIMPLY BROKE WITH HIM. </s><br/><br/>Near the ending, I cried with these characters. I felt their pain and fear that is so raw. Their desperation. Everything is just. Was just. Ugh. Everything was too much. I couldn't breathe. I couldn't think straight. What the hell, Dr. Kells?<br/><br/>In the Evolution of Mara Dyer, I felt every thing. I was terrified. I fell in love. I was terribly sad and frustrated. There's a lot of emotions that I'm still dealing with right now. And I don't know if I'll ever move on.<br/><br/>The ending. Really, why do the authors like torturing their awesome readers by leaving them hanging? I have to wait 4 freaking months, I think. But I know for sure that it'll be worth the wait. If I just knew how to insert GIFs, I would probably flood this with so many. But whatever.<br/><br/>*clapping*