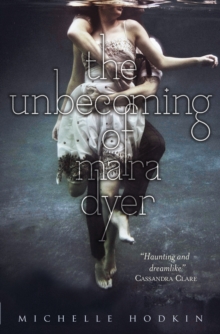 The Unbecoming of Mara Dyer
Paperback
Description
Mara Dyer doesn't think life can get any stranger. She wakes from a coma in hospital with no memory of how she got there or of the bizarre accident that caused the deaths of her best friends and her boyfriend, yet left her mysteriously unharmed.
The doctors suggest that starting over in a new city, a new school, would be good for her and just to let the memories gradually come back on their own.
But Mara's new start is anything but comforting. She sees the faces of her dead friends everywhere, and when she suddenly begins to see other people's deaths right before they happen, Mara wonders whether she's going crazy! And if dealing with all this wasn't enough, Noah Shaw, the most beautiful boy she has ever seen can't seem to leave her alone... but as her life unravels around her, Mara can't help but wonder if Noah has another agenda altogether...
Information
Format: Paperback
Pages: 464 pages
Publisher: Simon & Schuster Ltd
Publication Date: 01/03/2012
Category: General
ISBN: 9780857073631
Free Home Delivery
on all orders
Pick up orders
from local bookshops
Reviews
Showing 1 - 5 of 5 reviews.
Review by giuliana.susini
16/06/2015
Review by pwlifter300
16/06/2015
I was quite intrigued going into the first half of story, and the damsel-in-distress plot indeed has that "Edward-Bella" undercurrent, which is can be cute at times. The author knows how to write romance. Then Ms.Dyer begins to hallucinate more frequently than needed and the text starts to become unbearable. I skipped several pages just to overcome boredom; the dialogue is turning mushy and incomprehensible - which is not acceptable considering both the protagonists are word geeks and into heavy Lit!!! In short, I love the premise, love the SAT words and sometimes clever banter, and the cliffhanger. However, you got stuck in the second half - unlike Hunger Games which is action-packed, or better yet, Blood Red Road, Mara Dyer is more Twilight, or a slightly better version of Twilight minus believable psychotic episodes. The revelation that Ms. Dyer's boyfriend possesses healing power and would be the savior of Ms. Dyer's self-destruction successfully annoyed me.. until I learned that her number one enemy is still alive and the book ends with "End of Volume One." Then it gets intriguing again.. can't wait for the sequel!Guess some people either love it or hate it. That's why I just give it a three instead of one or five :)
Review by Yogiboo
16/06/2015
I dropped a star because I finished the sequel yesterday. I enjoyed this book. I read it in a couple of evenings, I found it engaging and slightly creepy. I liked her powers and her family and Noah, Jamie and Mabel. What I got annoyed about (after reading the sequel and upon reflection) was the fact that she thinks Jude is alive and she's scared of him. Ok so you have the power of death and don't need to be in the same room to kill him. She just has to picture it in her head but no, alas, she has to become pathetic and useless and a complete drip and wait for Noah to save the day because he is good looking and rich.
Review by sarafwilliams
16/06/2015
SO......MUCH......IS.....HAPPENING.....<br/><br/>Seriously, so many things happen I do not know where to begin.<br/>This book presents itself as a mystery from the very beggining. Mara Dyer wakes up in the hospital with no memory whatsoever of what had happened, and to her two best friends gone and her boyfriend Jude, too. Curiously enough, no harm was done to her. What happened?<br/>Eager to forget all about it, her family moves away, searching for a new beggining.<br/>But will that be possible? Of course it won't.<br/><br/>The endings comes off as a big surprise, but apart from that, The Unbecoming of Mara Dyer can be quite guessed along the way. It is very exciting, a bit too long that would be necessary. It makes you NEED the rest of the series right away, that's for sure.<br/><br/>I wasn't much of a fan of Mara, neither Noah but that can be overlooked as to, as a whole, this is totally worth reading.<br/>
Review by sarafwilliams
16/06/2015
SO......MUCH......IS.....HAPPENING.....<br/><br/>Seriously, so many things happen I do not know where to begin.<br/>This book presents itself as a mystery from the very beggining. Mara Dyer wakes up in the hospital with no memory whatsoever of what had happened, and to her two best friends gone and her boyfriend Jude, too. Curiously enough, no harm was done to her. What happened?<br/>Eager to forget all about it, her family moves away, searching for a new beggining.<br/>But will that be possible? Of course it won't.<br/><br/>The endings comes off as a big surprise, but apart from that, The Unbecoming of Mara Dyer can be quite guessed along the way. It is very exciting, a bit too long that would be necessary. It makes you NEED the rest of the series right away, that's for sure.<br/><br/>I wasn't much of a fan of Mara, neither Noah but that can be overlooked as to, as a whole, this is totally worth reading.<br/>