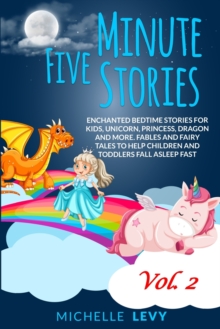 Five Minute Stories : Enchanted Bedtime Stories For Kids, Unicorn, Princess, Dragon and more. Fables and Fairy Tales to Help Children and Toddlers Fall Asleep Fast Vol. 2
Paperback / softback
Description
Many people are habitual of reading bedtime stories to their children.
It is usually considered to be a fun activity however; it can also play a key role in building the personality of a child. Moreover, parents get a chance to spend quality time with their children. This enables them to strengthen the family bond. Bedtime stories also help children in relaxing their minds. Thus, it helps them to have a sound and comfortable sleep. Apart from these, bedtime stories enhance the imagination of a child. It is because in these stories they encounter characters and scenes which they do not see commonly in their daily lives. Moreover, bedtime stories also play a major role in developing critical thinking and problem-solving skills of children. All these skills ensure better development of your kid's personality.
This book is written keeping in view all the above-mentioned factors. Various stories in the book will help you to mold the personality and thoughts of your child. It will be the right choice for you and your children. The stories in this book are fiction. Reading them to your children will foster the bond between you two. The values, morals, etc. that you will discuss with your child will help him to become a good person. It will enhance the interest and learning abilities of him. Thus, sharing bedtime stories with kids is something all the parents should make a part of their daily routine.
This book is a collection of perfect bedtime stories. Make them a part of your daily routine so that your child develops a habit of learning new things every day. By sharing these stories with your children you will be able to build a very strong bond with them. You will get the opportunity to spend more time with your kids. Moreover, if your child is exposed to these stories daily he will be able to develop his logic and comprehension skills; the skills that a child needs the most. These two skills will be beneficial for them throughout their academic career.
Different stories in this book contain values and morals which reflect how people need to treat others. Every parent has some set of moral expectations from their children. One of the ways through which you can enable your child to meet your moral expectations is by reading bedtimes to them. Other than that by sharing bedtime stories with your children, you are also instilling good communication skills in them. They will learn how and when to talk. The questions they ask and the predictions they make about while listening to the stories will enhance their cognitive skills.
Thus, sharing bedtime stories is far different and important than sharing a cute story with your children. Here in this book, we have the perfect collection of bedtime stories for you and your children. Share them with your kids and you will surely achieve the desired purpose. So, let's get started...
Information
Format:Paperback / softback
Pages:102 pages
Publisher:Elleffe Ltd
Publication Date:18/11/2020
Category:
ISBN:9781801116343