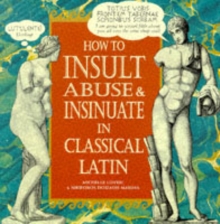 How To Insult, Abuse & Insinuate In Classical Latin
Hardback
Description
Why confine yourself to boring monosyllabic Anglo-Saxon taunts and insults when you can defame, demean, degrade, demolish and damn in the deft language of Cicerco, Martial, Ovid, Cattullus, Horace and others?
Now you can impress your friends and devestate your enemies with the filth and wit of your newly-excavated repetoire of classical invective.
Usefully arranged in sections for the sexless, gormless, worthless and unscrupulous (etc etc), with special sections on regional taunts and useful threats, the book contains illustrations from classical sources and is immaculately researched by a young Cambridge classics scholar and an expert in the ancient languages of desire and desperation.
Information
Format: Hardback
Pages: 72 pages
Publisher: Ebury Publishing
Publication Date: 07/05/1998
Category: Humour
ISBN: 9780091864453
Free Home Delivery
on all orders
Pick up orders
from local bookshops