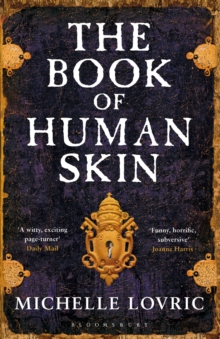 The Book of Human Skin
Paperback
Description
The book of human skin is a large volume with many pages of villainy writ upon it.
There are people who are a disease, you know.13 May, 1784, Venice: Minguillo Fasan, heir to the decaying, gothic Palazzo Espagnol, is born.
Yet Minguillo is no ordinary child: he is strange, devious and all those who come near him are fearful.
Twelve years later Minguillo is faced with an unexpected threat to his inheritance: a newborn sister, Marcella.
His untempered jealousy will condemn his sister to a series of fates as a cripple, a madwoman and a nun.
But in his insatiable quest to destroy her, he may have underestimated his sister's ferocious determination, and her unlikely allies who will go to extraordinary lengths to save her...
Information
Format: Paperback
Pages: 512 pages
Publisher: Bloomsbury Publishing PLC
Publication Date: 01/06/2011
ISBN: 9781408809648
Free Home Delivery
on all orders
Pick up orders
from local bookshops
Reviews
Showing 1 - 5 of 5 reviews.
Review by drachenbraut23
16/06/2015
"A heart-stopping journey of innocence and resilliance struggling for survival against the kind of evil that makes Hannibal Lector look cuddly" This has been said by another reviewer of this book and I only can agree with this statement. The story is set in the late 18th and early 19th Cetury alternating between Venice and Peru. The book is beautifully woven with 5 voices telling the story in the first person format, their stories come together in a fascinating, gruesome and at times even a very witty way. The characters are very well described and the whole story in general is executed in a very engaging and discriptive manner. The book starts with the words - "This is going to be a little uncomfortable". The 5 voices are "Minguello Farsan" the son of a Venetian Noble who addresses us as "Dear beloved Reader" and similiar terms. "Marcella Farsan" his little sister who suffers in silence under his evil dominion in order to protect her friends . "Gianni" The valet of the noble house who tries to protect Marcella as best as he can. "Dr. Santos" a surgeon who crosses path with Marcella several times and also tries to protect her and lastly we have "Sor Loretta" a hysterical, fanatical and completely mad nun in a Peruvian Convent who does not display any of the Christian humility expected of a nun. Minguello was the second child of the noble Venetian family and was born with some kind of malady which made him unwanted from the day he was born. By the time he was 4 years old he was already known and feared for his cruelty, sadistic streaks and the murder of his older sister Riva. Some years later his sister Marcella is born, who had to suffer from the beginning under his vile administrations. Dr Santos was an orphan who had a passion for skin disease and a knack for healing since he was a child. When he was still very young he fled the orphanage and was lucky to get apprenticed to a good field surgeon and they spent some time in the war camps of Napoleon. Santos and Marcella met the first time when she was still a child whilst she was treated by his master for a severe injury caused by Minguello. When Minguello is 12 he discovered Marcella to be a threat to his inheritance which condemed her to a series of horrible fates as a cripple, a madwoman and a nun. He also had from a very young age a passion for books. "When I say that I loved books, I mean that I loved not just the souls of my books but their bodies. Even before I could read, I was a fanatic for bindings, affectioned to the intimate protection and adornment jointly embodied in their snug fittings. I adored the shapeliness and firmness of books"Eventuelly Minguello came across a book bound in human skin which became soon another obsession for him. He viewed the skin as an organ of transportation and thought that it gave him the insight into the very soul of its host and he spend a lot of his money on these types of books. Nevertheless Marcella fought him with a quiet determination and with the help of her friends all the way. When she finally came as a nun to the Peruvian Convent, the administrations and the frightening behaviour of the mad nun Sor Loretta forced her after 3 years to take drastic meassures in order to survive. Sometimes I was not quite sure if the story of Sor Loretta or Minguello Farsan was more vile, as the book is very discriptive, however by the end of the book you just know for sure - You Do not like either of them - This was a fabolous book and I found the different voices just added perfectly to the gruesome build up of the story.
Review by literarytiger
16/06/2015
I really did enjoy this book of a classic tale of good over evil - although the evil really was evil without one shred of redemption. In that, it reminded me of Perfume, although this was slightly easier to read as there were those interwoven breaths of fresh air as the 'good' characters spoke.It is written as five different narratives, and I found myself flinching and wanting to get quickly through the narratives of Minguillo, the archly evil brother who was a text book psychopath, and the even more unpleasant character of the nun who was the most self-centred, deluded, self-aggrandizing excuse for a person I have ever encountered in a novel. She was truly vile. The first half of the book when evil seemed absolutely sure to prevail over anything good was difficult. I got somewhat frustrated at the resignation of many of the characters - minor and major - to Minguillo. I thought at least someone might have had a bit more backbone against him. But the second half of the book was easier as it became clearer that Lovric wouldn't leave us despairing of humanity and the ending was strangely satisfying.I did have an issue with the so-called uneducated spelling of Gianni. I understand he wasn't completely literate, but it was difficult to read and I don't think it was particularly necessary to write like that. But overall, it was an entertaining book which had been meticulously researched and written with creativity.
Review by StuartAston
16/06/2015
The book follows Minguillo Fasan and his immediate family and staff as he tries to come to terms with his family not loving him. The fights he has to become instead respected as the future head of the family and how, by any means, he worked to take out anything and anyone who stood in his way.After killing one sister to be the main child he then turns his attention to his younger sister Marcella. How can he stop her from encroaching on his territory and what happens when his father leaves on his long trips - is there a secret there which could stop the domination of his family and society which he so greatly seeks?A good book to read you see how the world of Minguillo slowly cracks and disintegrates around him - while the rest of the world start to fight back. From the beginning the gruesomeness of the books he reads is a sub plot which you wonder how it is involved in the story. At the end it all comes together in a finale which is fitting for the storyline.
Review by Glorybe1
16/06/2015
This book is wonderfully evil and excruciatingly funny at the same time! Set in Venice in the 1700's it follows the fortunes or ill fortunes of the Fasan family. Minguillo is so evil it is hard to stomach his twisted thoughts and obsessions. Marcella his sainted sister, who Minguillo lives to torture and destroy. It takes the reader through every disgusting scheme that Minguillo thinks up to get rid of his sister, yet at it's heart it is a love story too. It is full of peculiar and wonderful characters along the way. A brilliant book in a very macabre way. If you liked The Brothers Gossbert you will enjoy this too.
Review by pablosuau
16/06/2015
The typical story about very evil people trying to make other people's life difficult, this time set in the 19th century. However, the way the story is told makes it engaging and the historical background is well developed.