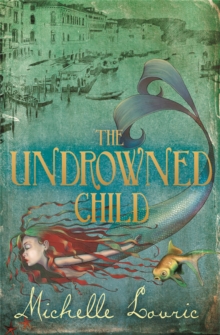 The Undrowned Child
Paperback
Description
It's the beginning of the 20th century; the age of scientific progress.
But for Venice the future looks bleak. A conference of scientists assembles to address the problems, among whose delegates are the parents of twelve-year-old Teodora.
Within days of her arrival, she is subsumed into the secret life of Venice: a world in which salty-tongued mermaids run subversive printing presses, ghosts good and bad patrol the streets and librarians turn fluidly into cats.
A battle against forces determined to destroy the city once and for all quickly ensues.
Only Teo, the undrowned child who survived a tragic accident as a baby, can go 'between the linings' to subvert evil and restore order.
Information
Format: Paperback
Pages: 368 pages
Publisher: Hachette Children's Group
Publication Date: 04/02/2010
Category: General
ISBN: 9781444000047
Free Home Delivery
on all orders
Pick up orders
from local bookshops
Reviews
Showing 1 - 4 of 4 reviews.
Review by felicityann86
16/06/2015
I think I would have been predisposed to love 'The Undrowned Child' purely based on its historical setting in turn of the century Venice - one of my favourite cities in the world - but there is so much more to this book than its wonderful historical detail. For a start, the two child protagonists are both exceptionally bright, gifted children, which was wonderful, and Teodora in particular is a wonderful character, and, I'm sure, an excellent role model for girls, as she gets by on her brains and her courage, rather than her looks. Added to which, there are genuinely scary bits in the novel, at the perfect level for more adventurous child readers, and the ghosts and mermaids that populate the novel are charming characters. But, honestly, Venice is the star of the show in this one, and it made me desperate to go back there for a visit and see if I could find all of the places in the book.I have seen people comparing Lovric's novel to Harry Potter, and, while I remain a big fan of the Potter books, I think saying 'The Undrowned Child' is like Harry Potter is completely ignoring the rich tradition of children's literature that both books draw from. Certainly, it could be argued that 'The Undrowned Child' shares some plot points with HP, and there is a lot of humour in both writers' work, but Lovric's work, in my opinion, is much more literary, and perhaps has the more serious tone. I honestly can't recommend this book highly enough for anyone who enjoys cross-over fiction and children's literature, and I can not wait for the second book, 'The Mourning Emporium', to come out later in 2010.
Review by thediaryofabookworm
16/06/2015
Back in March I ran into this book during a children's and YA book sale. I won't lie, this book has the most beautiful cover art of any book I've ever seen, and that would be one hundred percent why I picked it up. Even the end pages were gorgeous!But then I picked it up and read the blurb, it was set in Venice! One of my dream European cities. Ok, so the premise sounded like it had promise too, but really, I might have bought it anyhow.Venice + Pretty book= sold.It's nice to have no real expectations about a book when you start. I've never seen this book in a bookstore before or since I picked up (i grabbed the only copy at chapters) and I've never heard of the author or seen a review for this or any of her other books. So it was a perfect clean slate.The first thing I noticed was what a distinctive and unusual voice it had. Set over a few short days in June of 1899, this book is written with a lovely lilting prose that never talks down to it's readers. The eloquence of the two children is starkly contrasted by the supremely fun slang of the the mermaids. "Keep yer noggin' mouf shut, ye great dafty!" or "My gib was atwitch, I might of knowed it. Human childer smell most peculiar, I do declare freely". Between the prose and the world Michelle Lovric has created I was quickly swept away.The premise is simple, Teodora, and Lorenzo (super great names!), must save Venice from the machinations of the evil Bajamonte Tiepolo (seriously, I need a bunch of cats that I can give some great old Italian names too). Otherwise known as Il Traditore, Bajamonte Tiepolo was banished from Venice for his crimes against Her in 1310, but his ghost is back for revenge and he is building a fierce-some army of pirates, ghosts, vampire eels and a sea monster who can destroy the city of water.With a great deal of action and adventure, reams of fun characters, (honestly when is the last time you read about mermaids?) and the fascinating history of Venice itself, it may have been impossible for Michelle Lovric to go astray with The Undrowned Child. She's managed to create a very unique story in the world of children's lit, which, considering the broad range out there, is impressive in and of itself.Obviously a huge lover of Venice (she lives there herself these days), the story also reads as a love letter to Venice. I was already fascinated by Her colourful history and unique setting but I think Michelle will inspire many others in a fascination with the floating city.After perusing her website, I was surprised to learn The Undrowned Child will have a sequel. A fully complete story in itself I'm not sure what the next book will cover, but I can't wait to find out. The Mourning Emporium (I'm telling you, this woman has a way with words! another fab title) is set to release November 4th in the states and December 15th in Canada (how obnoxious!). It looks every bit as pretty as the first!
Review by krau0098
16/06/2015
I got an advanced reading copy of this book through the Amazon Vine program. I love historical fantasies, especially ones set in Europe, so this sounded like an excellent read to me. In general I really enjoyed the story, all of the history, the fantastical creatures, and the Venice setting.Teodora has always longed to visit Venice. Finally her scientific parents are called to help with the problem of Venice sinking and Teo is allowed to accompany them. There Teo is hit on the head by a mysterious book and drawn into the world between the layers of Venice; it is a world where mermaids print propoganda fliers, cats talk, and the very fate of Venice is at stake. Can Teo, with the help of the studious Renzo, save Venice before the whole city is destroyed and succumbs to absolute evil?There were a lot of things I really liked about this book. I loved how much history is entwined with this story, I love even more that the author tells the reader which parts were real history and which were fabricated in the Afterward. I love the shear scope of fantastical creatures that enter this story: there are mermaids, werewolves, vampire eels, giant talking cats, winged lions, and more. Teo herself is an admirable heroine and Renzo also grows on you as the story continues. I also enjoyed the epic struggle between good and evil that takes place in this story.The plot is complex and takes a while to set up. I think it took a little too long to set up. As a reader you get the basics of the plot pretty quick; Teo has to save Venice from ultimate destruction. The plot stalled a bit in the middle for me. It always seemed like there was one more thing Teo and Renzo had to do before the epic end battle, and it was drawn out a bit too long. My only other complaint was that some times things were thrown into the story with little reason; for example in the end battle there are suddenly dark elves present and I was like...huh?...when did they get here? These little extras made the story increasingly complicated without adding much to the overall story, they also made the writing seem a bit scattered at times.Overall this was an excellent historical fantasy of epic proportions. I loved learning the history of Venice and about the city itself. I loved the wonderful fantastical creatures that Teo dealt with. Teo and Renzo were excellent characters and it was fun to watch them solve mysteries together. My only complaints are that the story lagged a bit in the middle and little things were added in that made the story a bit too scattered and complicated. If you cut a hundred pages out of the middle and consolidated some of the mini-quests that Teo and Renzo went through mid-book, this would be a perfect read. I did like the book overall. It should be appropriate for middle grade or older readers (although it is a bit dark with talk of torture and lots of battle scenes). Readers who enjoy historical fantasy should find this book especially engaging.
Review by alidevnz
16/06/2015
5 out of 5 reading this as an adult/ 4 out of 5 on behalf of my students.<br/><br/>I thought this was brilliant but quite an advanced read for my year 6's. Great for extension. A really well thought out alternate Venice by an author that is very familiar with the environment and the history. Rich details, great plot. I would recommend this to readers who loved Inkheart/The Emerald Atlas and similar.<br/><br/>I am looking forward to reading the sequel.<br/>