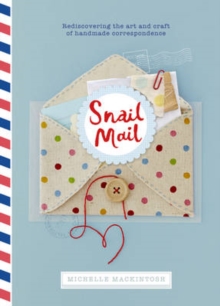 Snail Mail : Celebrating the Art of Handwritten Correspondence
Hardback
Description
Inspired by Japanese stationery and letter-writing culture, Michelle Mackintosh introduces the reader to the charm of the handwritten letter, personalised packages and handcrafted stationery.
Beautifully illustrated and complete with cut-out postcard designs, papercraft and rubber stamp templates, Snail Mail is full of equally useful and whimsical advice, like how to say thank you in a letter, romance someone, and other old-school etiquette; how to take time and reflect on your life through writing; how to improve and celebrate your own handwriting; how to make your own paper; how to choose papers, make stickers and stamps (and the best places to shop for materials); how to prepare a care package for friends and loved ones; how to make beautiful DIY invitations; and how to make pen friends.
The ideal gift for a friend or cute self-purchase, Snail Mail will appeal to anyone who is tired of social media and the age of the text message.
Information
Format: Hardback
Pages: 224 pages, Full colour illustrations throughout
Publisher: Hardie Grant Books
Publication Date: 01/04/2015
Category: Book & paper crafts
ISBN: 9781742708775
Free Home Delivery
on all orders
Pick up orders
from local bookshops
Reviews
Showing 1 - 1 of 1 reviews.
Review by Carpe_Librum
27/01/2016
I love sending and receiving things through the mail - cards, letters etc. and receiving something unexpected is such a joy. Perhaps it comes from growing up in a Post Office, and helping to sort the mail as I got older.I still remember writing to Dolly magazine asking for a penpal and promising to write back to every single letter. The mail came pouring in, and there was no way I could reply to the hundreds of letters, so instead I made a commitment to write back to every person who'd sent me a photo with their letter. Times have changed, but I still love to send birthday cards, notes and Christmas cards in the mail, even though people are doing this less and less. Nowadays people wish each other Happy Birthday via text message or a Facebook post, and when I sent my family and friends a change of address card earlier this year, a friend called me 'retro' and another laughingly called me 'old school.'Well, I'm proud to be old school, and am hanging on to the art of snail mail with everything I've got. I also keep every card and note I've ever received, and can enjoy them long after text messages and Facebook posts are lost to the cloud/ether/black hole of technology.ReviewMichelle Mackintosh is a woman after my own heart. A fellow stationery lover and devotee of the printed word, her book Snail Mail: Rediscovering the Art and Craft of Handmade Correspondence was an absolute joy to read.I certainly didn't need any convincing when it comes to the benefits of sending a sentiment in the post, but she gave me plenty of inspiration and ideas that I could be making more of what I do send. If you're looking for inspiration and want to send more snail mail in your life, then I heartily recommend Snail Mail. This beautiful book is full of ideas, examples and inspiration and is the perfect place to start.If you want me to send you something in the mail, send me a message with your address and I'll see what I can do :-)
Also by Michelle Mackintosh