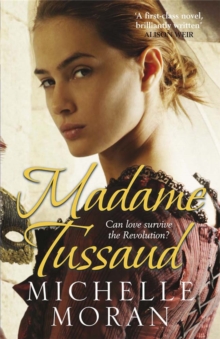 Description
When Marie moves from her family's waxwork museum into the palace of Versailles, her whole life is set to change...When Marie Tussaud learns the exciting news the royal family will be visiting her famed wax museum, the Salon de Cire, she never dreams that the king's sister will request her presence at Versailles: as a royal tutor in wax sculpting.
As Marie familiarizes herself with Princess Elisabeth and begins to know Marie Antoinette and Louis XVI, she witnesses the glamorous life of court, a very different world from her home on the Boulevard du Temple of Paris where bread can only be had on the black market and men sell their teeth to put food on the their tables. The year is 1788 and men like Desmoulins, Marat, and Robespierre are meeting in the salons of Paris speaking against the monarchy; there's whispered talk of revolution. Spanning five years from budding revolution to the Reign of Terror, Madame Tussaud brings us into the world of an incredible heroine whose talent for wax moulding saved her life and preserved the faces of a vanished kingdom.
Information
Format: Paperback
Pages: 432 pages
Publisher: Quercus Publishing
Publication Date: 01/08/2011
Category: Historical fiction
ISBN: 9781849161381
Free Home Delivery
on all orders
Pick up orders
from local bookshops
Reviews
Showing 1 - 1 of 1 reviews.
Review by AdonisGuilfoyle
16/06/2015
In my on-going but recently neglected campaign to read every F-Rev book ever, I missed one, so borrowed a copy to correct that omission! Michelle Moran's novel is an enjoyable read, despite its bulk, but nothing original. Marie Grosholtz - who only becomes Madame Tussaud in the final chapters - narrates the major events and historical anecdotes of the French Revolution, while skimping slightly on the detail of her own life. That's not really a complaint - I have just read far too many stories set in this particular era, and not much is known about Grosholtz - but the formula of someone bursting into the <i>Salon de Cire</I> with another important development in the Revolution did start to wear thin for me.Marie is a strong yet believable character, satisfyingly ambiguous for a modern account of the Revolution - she was a tutor and friend of Princess Elisabeth, Louis' sister, and a supporter of Desmoulins, Robespierre and the Duc d'Orleans in the early days - and Moran also presents both sides fairly, showing sympathy for Marie-Antoinette while relaying a commoner's perspective of the upheaval in Paris. In fact, the narrative, plus timeline, historical notes and glossary, would make this an excellent YA novel, if not for the 'occasional scenes of graphic violence' and the daunting 600 page length of the book. Michelle Moran brings the historical figures to life (even if Robespierre comes across as slightly wet, but I don't like him anyhow) and makes this chapter of France's history accessible and engrossing. The cover on my copy is a bit bland, though - they couldn't even be bothered to style the hair of the model in the purple dress!