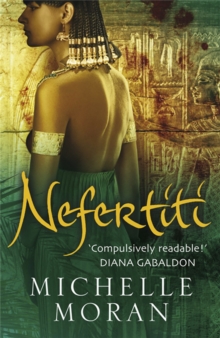 Description
When the Crown Prince of Egypt needs a wife, the beautiful, charismatic, ambitious and connected Nefertiti is his mother's first choice.
She quickly becomes accustomed to the opulence of her new life.
As Queen of the world's first great empire at the height of its power, all her dreams are realised. Beguiling and wilful, Nefertiti is soon as powerful as the Pharaoh himself.
But when her husband breaks with a thousand years of tradition, defying the priests and the military, it will take all Nefertiti's wiles to keep the nation from being torn apart.
Watching from the shadows, her sister, Mutny, detests the back-stabbing nature of palace life, and as she dreams of a simple life in the countryside, she records her sister's transformation from teenage girl to living goddess.
But Nefertiti's star quality can only take her so far, and when she's prepared to sacrifice her sister to strengthen her power, the two women become locked in a feud which only death can break...
Information
Format: Paperback
Pages: 432 pages
Publisher: Quercus Publishing
Publication Date: 01/02/2008
Category: Historical fiction
ISBN: 9781847242983
Free Home Delivery
on all orders
Pick up orders
from local bookshops
Reviews
Showing 1 - 2 of 2 reviews.
Review by elliepotten
16/06/2015
A wonderful and powerful novel about one of the most powerful royal couples in Ancient Egypt. The story opens in the royal city of Thebes, where Pharoah and his family and courtiers are in mourning for the recently deceased Crown Prince Tuthmosis. Now his younger brother Amunhotep is the heir to the throne and must choose a Chief Wife as his queen. His mother, Queen Tiye, chooses her feisty niece Nefertiti, in the hope that she will be strong enough to rein in his arrogance and destructive tendencies and shape him into a good ruler.The story is narrated by Nefertiti's quiet younger half-sister Mutnodjmet, who helps her sister to ready herself to travel to Thebes, and experiences for herself the delights of the royal palace and the luxury that comes with being the sister of the king's Chief Wife. But it soon becomes clear that Nefertiti is being corrupted by the power and ambition of her husband, and rather than keeping him in check she only encourages him, supporting him as he goes against thousands of years of Egyptian tradition, elevating a new God above the old protectors of Egypt, rejecting his first wife Kiya, destroying the temples and building the new royal city of Amarna to glorify Aten and turn the royal couple into deities. Families are destroyed, corruption runs rife and the outskirts of Egypt are threatened by invasion, but Pharaoh is too busy in his vain pursuits to notice anything outside of his own palace. Nefertiti's beauty and charisma enchant her people and her husband alike, but her selfish nature leads to a rift between the two sisters that will tear them apart and echo throughout Egypt. Ultimately, the inevitable happens, and despite her family's desperate attempts to avert crisis Mutnodjmet can only watch in horror as the great empire of Akhenaten and Nefertiti self-destructs in a gripping and heartbreaking climax as Egypt fights back to reclaim its history.This is a brilliant piece of storytelling. It is brilliantly researched, and although some fictional liberties have been taken (acknowledged openly by the author at the end of the book) it is so well grounded in fact that it hardly matters. The family tree at the start of the book was particularly useful in keeping track of family connections and grasping difficult names. Moran has entwined all that is known about the royal court of the Heretic King, as well as historical theory and intelligent guesswork, to create a complex and riveting novel full of delicious detail that brings the exotic Ancient Egyptian cities, palaces and domestic households to life. It is a whirlwind journey through the reign of perhaps the most famous Egyptian Queen of all time, spiralling along with her ambition until the sudden, violent and extremely moving collapse of the empire which shatters the reader even as it shatters Amarna. I savoured every moment of it - I was transported away from the British autumn into the warm, spiced Egyptian sunshine, cried bitterly all the way through the ending, and finished the book feeling slightly shell-shocked and more than a little sad that it had ended - always the mark of a brilliant novel.I look forward to reading Moran's next novel, 'The Heretic Queen', this time about Nefertiti's niece, Mutnodjmet's daughter Nefertari, who married Ramses II and continued the family's connection to the royal throne...
Review by veens
16/06/2015
Nefertiti means the Beautiful Has Come, and true to her name she is the most beautiful women in the whole of Ancient Egypt. She is also the daughter of the Queen of Egypt's brother, who himself is a great Vizier to Pharaoh, and thus she knows her destiny is to be the Queen of Egypt herself.This is the story of 2 sisters, Nefertiti and Mutnodjmet one of whom is destined to be the Queen and another a slave to the throne.~~ 'Be careful here, my lady. Let history forget your name. For if your deeds are to live in eternity, you will have to become exactly what your family wants you to be.' 'And what is that?', I demanded 'A slave to the throne.'When Tuthmosis, the eldest son of the reigning Pharaoh and Queen Tiye dies, their younger and the least-loved son Amunhotep is crowned the King of lower Egypt. On Queen Tiye's insistence and being utterly smitten by Nefertiti, Amunhotep marries her and names her the Chief Wife and in short the Queen of Lower Egypt. With her, Nefertiti's whole family moves to the palace. Amunhotep is far more ambitious and is a striking contrast to the perfect Tuthmosis.The new King makes sure, all things followed by his father and his elder brother are changed. He goes so far as to ask Egypt's people to forsake the God's that they have bowed to for many years and start paying their obeisance to a new God that only the new King and Queen understand and believe in, Aten. He banishes Amun worshiping and destroys all the temples inclined to his worshiping. He erects a new temple to the glory of Aten, the sun!Queen Tiye's hope that Nefertiti would show Amunhotep the correct path, and bring him to see his parents ambition all fail. As time passes much to the disappointment of her family, Queen Nefertiti becomes her husband's ally and soon big Tombs of her husband and her are erected everywhere. She alongwith her husband seeks to live eternally in them. She is the Goddess that people want to see, she is the person that people look upon. Nefertiti has no choice though, if she has to has power she has to support her husband or he will turn to his 1st wife Kiya, which she will never allow! 'Even so, I have no image of her [Nefertiti's mother] in Egypt.' Her gaze grew determined. 'I will never let that happen to me. i will carve my image in every corner of this land. I want my children to remember me until the sands disappear from Egypt and the pyramids crumble to the earth.'As with Tuthmosis, their Father, the Pharaoh also takes to bed and soon he also dies. Like Tuthmosis's death, Pharaoh's death came faster than was expected but no one talks against the new Pharaoh.What happens next is something you will have to read and know. In this gripping tale you will see how one man's hunger for power and eternal glory.I assure you, all historical fiction lovers will not be disappointed in this one and you will sit still till you know, what finally happens to Amunhotep, Nefertiti, Mutnodjmet and the whole of Egypt! I now why I love this genre so much. The read is both thrilling and the anticipation of what next gets to you! We are shown a whole new breed of women who can be calculating, loving but extremely dangerous -- women with ultimate powers!If you have NOT read this one ~~ High time you go buy it!I am waiting eagerly for my next shopping spree, when I get the 2nd installment The Heretic Queen