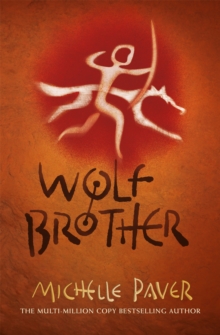 Wolf Brother : Book 1
Paperback
Description
The first, bestselling novel in the million-copy-selling CHRONICLES OF ANCIENT DARKNESS series, WOLF BROTHER is a compelling page-turner like no other written by renowned author Michelle Paver.Thousands of years ago, the land is one dark forest. Its people are hunter-gatherers. They know every tree and herb and they know how to survive in a time of enchantment and powerful magic. Until an ambitious and malevolent force conjures a demon: a demon so evil that it can be contained only in the body of a ferocious bear that will slay everything it sees, a demon determined to destroy the world.Only one boy can stop it - 12-year-old Torak, who has seen his father murdered by the bear. With his dying breath, Torak's father tells his son of his burden. He must lead the bear to the mountain of the World Spirit and beg that spirit's help to overcome it.A terrifying quest in a world of wolves, tree spirits and Hidden People, a world in which trusting a friend means risking your life.
Audio edition also available, read by Ian McKellen.
Information
Format: Paperback
Pages: 256 pages
Publisher: Hachette Children's Group
Publication Date: 27/05/2005
Category: Fantasy
ISBN: 9781842551318
Other Formats
Paperback from £6.49
EPUB from £4.99
CD-Audio from £12.59
Free Home Delivery
on all orders
Pick up orders
from local bookshops
Reviews
Showing 1 - 5 of 7 reviews.
Previous | Next
Review by christophax
16/06/2015
This was the first Michelle Paver i have ever had, found out of the blue by my mom whilst searching for new books. I really like this book (this series has been my favorite since i read the first book), for its inginuity and the 'background' of it - dark, ancient magic, the sort of ancient people who live in forest tribes, and the close relationships between human and animals. Only thing i regret with this book is that i read way too quickly (too excited) and managed to finish it in a matter of hours.
Review by atia
16/06/2015
I came across this book by accident and picked it up mainly because of the cover. I am glad I did, because this was a great read. It's set in the prehistoric age and it's about a young boy, Torak, who roams the Forest together with his father. One fateful day, his father is killed by a bear possessed by a demon and Torak sets out on a quest to destroy the demon. On his way, he is accompanied by a young wolf, who becomes his close companion. It's a fun story, your run-of-the-mill quest, but what makes this book special is its setting. The author manages to create a world full of ancient magic, and I was completely pulled in. At times I really felt as if I was in the Forest. I also loved the way the connection between man and nature - like in the relationship between Torak and Wolf - was portrayed. And I have a real weakness for people who can talk to wolves.
Review by LittleKnife
16/06/2015
Although written for children, I really enjoyed this book. The characterisation was interesting and thoughtful and I was particularly impressed with the portrayal of the tribal societies.
Review by FrogPrincessuk
16/06/2015
This is definitely a children's book. Whereas the backdrop is different (set in Europe of 6000 years ago), the themes/plot aren't. It is a typical 'orphan on quest to fulfill prophesy and defeat evil' storyline. However, it is still a wonderful book. It is fast paced, adrenalin-packed and keeps you hooked all the way through. This would make a great book for children just getting into proper reading. I shall be seeking out the rest of this series.
Review by quigui
16/06/2015
They say to never judge a book by its cover. But I like pretty shiny things.So it went on my wishlist because it came as an automated recommendation, and stayed there because it was pretty.Then I bought it because it was pretty.Then it stayed in my shelf for a year looking pretty.Eventually I came to my senses and decided that I should actually READ it.So I gave the book a try. I had a slight idea that it as young adult's literature. I thought it was fantasy.It was not exactly fantasy, but it sure was magical. I was hooked on the story from the first pages. I only had to start to read to be transported to this whole new world, and share my adventures with Torak. And Wolf. How I loved Wolf. This story is not exactly new, as few stories are. Is the same old boy saves the world. The boy and its dog, or in this case, wolf. The boy and his friends. But it is beautifully done, a gripping story. The fact that it is set in pre-historical times makes it all more believable, even if there are demons about.
Also in the Chronicles of Ancient Darkness series | View all