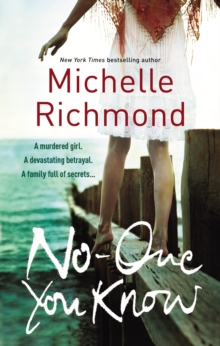 No One You Know
Paperback
Description
Ellie Enderlin spent most of her childhood living in her sister's shadow.
Lila was the good daughter - a mathematical genius who could do no wrong in their parents' eyes.
Whereas Ellie was younger, wilder and could never quite match up.
Until one day the shape of their family changes forever.
Lila is brutally murdered. In the aftermath of her sister's death, Ellie entrusts her most intimate feelings to a man who betrays her utterly by turning the story into a bestselling true crime book - a book that both devastates her family and identifies one of Lila's professors as her killer. Twenty years later and two Americans meet by chance in a remote village in Nicaragua.
Ellie is now a professional coffee buyer, an inveterate traveller and incapable of trust.
Peter is the academic who saw his career ruined by being named as Lila's killer.
He protests his innocence and leaves Ellie with a gift - the notebook that Lila carried everywhere, a piece of evidence not found with her body.
Stunned, Ellie will return home to San Francisco to explore the mysteries of Lila's notebook, filled with mathematical equations, and begin a search that has been waiting for her all these years.
It will lead her to discover more about the lover no one knew Lila had, to the motives and fate of the man who profited from their family's anguish - and to the deepest secrets even sisters keep from each other.
Information
Format: Paperback
Pages: 336 pages
Publisher: Ebury Publishing
Publication Date: 01/02/2009
ISBN: 9780091928919
Other Formats
EPUB from £3.99
eAudiobook MP3 from £16.76
Free Home Delivery
on all orders
Pick up orders
from local bookshops
Reviews
Showing 1 - 1 of 1 reviews.
Review by kiwifortyniner
16/06/2015
I really enjoyed this book by Michelle Richmond, the second one of hers I have read. Ellie's sister Lila, a brilliant mathematician, died 20 years ago and author Andrew Thorpe wrote a book about the case naming the killer as Peter McConnell the man Lila was having a relationship with. Before he wrote this book Thorpe spent many hours talking to Ellie and learning about her, and Lila, and the family. Ellie trusted him at that time and saw him as a friend, to whom she could tell her secrets and as a result she was horrified when he told her he was going to turn all their converstions into a book. She begged him not to but he went ahead anyway and this was the first of several crime novels he wrote. Over time Ellie became defined by the book. She saw herself in the way she was portrayed in the book. Grief had blinded her to logic and she could not move on with her life. But when she meets Peter McConnell many years later and talks to him she begins to have doubts about Thorpe's version of the story. As Michelle writes every story is an invention of the author. He decides its beginning and end as if it could only exist one way. But Ellie believes there is another way to tell this story and wants to further investigate the murder so she can move on with her life. This book had so much to offer. There was not just the solving of the mystery. Along the way as Ellie works to solve the mystery of the murder and rediscover herself there are many valuable comments on the art of story wrting. There does seem to be an expectation that if a book is classed as non fiction it will turn out to be true. but Thorpe's motives were questionable. He was more concerned with making money. Ellie tells Thorpe he should have concentrataed on the minor characters too for as he had said in one of his lectures the minor characters have to be dstinct too so that when people have finished reading the book they can remember everyone who has crossed its pages. Thorpe gives Ellie information that leads her to meet with other of the characters in the book and as a result the murder can be solved. There are mathemataical elements in the story as well for Lila was a gifted mathematician but they do not overwhelm the book. They are interesting. Ellie becomes a coffee cupper and works in the coffee industry and I loved this part of the story too for I love my coffee. This was a great book. We live our lives by way of a story. There are many small narratives that make up our story and I loved the way Ellie was able to solve the murder so that it was no longer the major story of her life. She wa able to move on and and see herself in a different way, and trust people again.