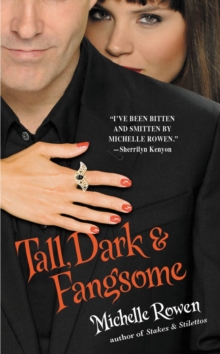 Tall, Dark And Fangsome : Number 5 in series
Paperback
Description
Sarah Dearly's positive attitude is waning. Perky and bubbly no longer describe her and frankly being a vampire is the least of her worries. Gideon Chase, leader of all vampire hunters, is being consumed by Hellfire and his only hope is that Sarah will bite him during a ritual under the full moon and turn him into a vampire.
To ensure her help he has threatened to kill all the people she loves, inc.
Thierry, her master vampire boyfriend and she has no doubt that he can and will do it.
He has also demanded she break things off with Thierry and never see him again, which she pretends to do but it isn't easy to protect someone when you're forced to keep your relationship a secret. However Sarah isn't the pushover she used to be - in fact, she was recently cursed to be a nightwalker and when she removes the magical necklace that keeps her hungers in check, she's as dangerous as any blood-thirsty, horror-movie vampire and not just a girl-next-door with fangs. However, her nightwalker self is becoming dangerously attracted to Gideon. Can she cure herself of the curse in time to destroy Gideon and save her true love, so they can live happily together forever?
Information
Format: Paperback
Pages: 352 pages
Publisher: Little, Brown & Company
Publication Date: 01/09/2009
ISBN: 9780446505857
Free Home Delivery
on all orders
Pick up orders
from local bookshops
Reviews
Showing 1 - 2 of 2 reviews.
Review by bookwormygirl
16/06/2015
Tall, Dark & Fangsome is the final installment in the Immortality Bites series featuring Sarah Dearly. The story starts up immediately after the cliff-hanger ending in Stakes & Stilettos. Sarah, is still dealing with her nightwalker problem, she is still being blackmailed and has had to keep her relationship with Thierry on the downlow, or else he will be doomed to eternal hellfire, and her friends are still trying to hook her up (don't they remember this all got started with a blind date gone wrong-geesh).I want to make it known that I have not read any of the other books in the series, so I was coming to this book with no previous knowledge of the characters. With that said, I absolutely loved this book! Of course, now I need to get my hands on the earlier books in the series just to see how it all started and how we got to where we are in the beginning of Tall, Dark & Fangsome.The characters in these stories are so colorful and full of life (or lack thereof), they are so likeable that it really is hard to pick favorites. Sarah Dearly is the coolest heroine ever. She is witty, clever and quite funny. Thierry is the hot, tortured, older (and by older I mean, older by several hundred years) vampire boyfriend. With danger lurking in every corner, Sarah's nightwalker issues, and some twists I didn't see coming, this book is definitely not all B-positive cocktails.This is a delightful series and a must-read for lovers of the paranormal romance genre.
Review by elnice
16/06/2015
My thoughts...This is the fifth and final book, so if you are new to the Immortality Series, I recommend you start with book 1, Bitten and Smitten. This last installment did a great job of wrapping up the series. The ending was very satisfying and I wasn't left hanging. Picking up from the previous book, Sarah is dealing with the fact that she is a Nightwalker. This means horrible blood lust, sun allergy, super vamp strength and a wild side. She is really tested in this book as she has to learn to control her evil side without destroying her friends. We do get to see some favorites again such as Quinn, George, Amy and even a new character called The Darkness. Like the other books in the series, this one a fast-paced, easy read. Rowen stays true to her writing style with witty characters, exciting twists and unexpected turns. It was hard to put down. I could have used more Theirry, but he was the mysterious man as usual. Although we do see a slightly different side of him, a bit more vulnerable. I was slightly frustrated by one relationship, I felt random and a bit forced, but I do not want to give away any spoilers. Overall it was a great read, I would recommend the whole series to an fan of vampire lit.
Also in the Immortality Bites series | View all