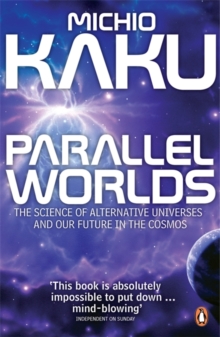 Parallel Worlds : The Science of Alternative Universes and Our Future in the Cosmos
Paperback
Description
From the bestselling author of Physics of the Impossible, Michio Kaku's Parallel Worlds takes us to the frontiers of scientific knowledge to explain the extraordinary nature - and future - of our universe. Imagine a future where we are not alone - where our universe is just one of countless parallel worlds, some strangely familiar, some almost unimaginable. And that, when planet earth finally runs down to a cold, dark wasteland, we will be able to escape into these new worlds and start again. Michio Kaku's thrilling guide to the galaxy shows us how it could happen sooner than we think - and the future for intelligent life is one of endless possibilities. 'This book is absolutely impossible to put down ... if and when we do find out what the universe is, and how it was created, it's going to be absolutely mind-blowing' Independent on Sunday 'One of the gurus of modern physics' Financial Times 'An exhilarating read ... nobody who reads this book can be anything less than amazed by the possibilities it presents' Scotland on Sunday 'The journey he takes the reader on is so picturesque and the conclusions so startling that you are gripped' Sunday Telegraph Michio Kaku is a leading theoretical physicist and one of the founders of string theory, widely regarded as the strongest candidate for the 'theory of everything'.
He is also one of the most gifted popularizers of science of his generation.
His books published by Penguin include Parallel Worlds, The Physics of the Future and The Physics of the Impossible.
He holds the Henry Semat Professorship in Theoretical Physics at the City University of New York, where he has taught for over twenty-five years.
Information
Format: Paperback
Pages: 448 pages
Publisher: Penguin Books Ltd
Publication Date: 26/01/2006
Category: Popular astronomy & space
ISBN: 9780141014630
Free Home Delivery
on all orders
Pick up orders
from local bookshops
Reviews
Showing 1 - 1 of 1 reviews.
Review by rcorfield
16/06/2015
This is a great book. It's well written, making a difficult topic easy to grasp, without dumbing down the physics.There are so many interesting unanswered questions in this area, many of them the Big Questions. Kaku explores the strange implications which current evidence is forcing us to consider as possible realities; the fact that the universe appears to be 'fine-tuned' to allow our existence is strong circumstantial evidence that this observable universe is just one of many possible (unobserved) universes. Kaku includes plenty of background about the personalities involved in cosmology & modern physics and also includes examples from science fiction stories, which have always led the way in exploring some of the bizarre implications and possibilities allowed (or forced upon us) by emerging Theories of Everything.The book seemed to peak in Chapter 11, which was possibly one of the 'furthest-fetched' pieces of science writing I have ever read. Are advanced societies really going to be able to manipulate neutron stars in order to escape a dying universe? I'm not so sure. A great book, though.