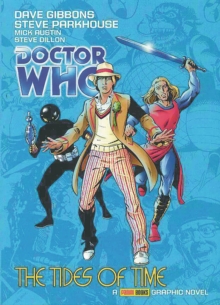 Doctor Who: Tides Of Time
Paperback
Information
Format: Paperback
Pages: 212 pages
Publisher: Panini Publishing Ltd
Publication Date: 31/05/2005
Category: Superheroes
ISBN: 9781904159926
Free Home Delivery
on all orders
Pick up orders
from local bookshops
Reviews
Showing 1 - 1 of 1 reviews.
Review by araliaslibrary2
16/06/2015
perhaps the doctor's worried face on the front cover should have warned me, but i'd assumed this was five's version of that thing ten's always doing with his hand in promo shots. alas, no. this collection of 'comics' is the most depressing thing i've read in a long time (i can't be more precise than that, because i just had a look at the books i've read recently, on facebook, and none of them have been this depressing). with any fifth doctor story you expect a certain amount of five being a bit useless and generally dooming his friends and the universe, but this was unreal. he kept trying to take holidays to get over how awful the last episode had been, only to be plunged into another disaster, largely of his own making, which somebody else would fix for him after a couple of people had died, while the doctor himself lay broken somewhere just going - god, this is a bad week, even for me. i wasn't prepared for this. there had been no mention of it in the amazon.co.uk reviews - nobody had said, on his final page you will actually have to look at five crying with anger and pain :(really dark and nasty, and the doctor rarely has any agency. not really recommended, though it's sort of interesting in a really weird, epic way - i have the first volume of eight's comics too and, although less upsetting, they were also totally entrenched in weird AUs and rassilon's matrix council and crazy shit that not even i, a reasonably hard-core fan, understood. can't imagine what peter davison (who apparently bought a copy of five's book having recorded his lighthearted stockbridge audios) thought of his doctor's 'adventures'. actually, i dare say he didn't read it very carefully. hopefully he only flicked through and saw the bits where the doctor was playing cricket and having a nice-ish time.