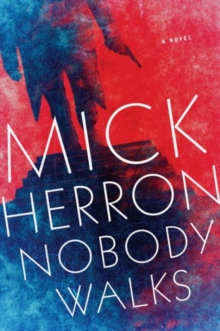 Information
Format: Hardback
Pages: 300 pages
Publisher: Soho Press Inc
Publication Date: 17/02/2015
Category: Crime & mystery
ISBN: 9781616954864
Free Home Delivery
on all orders
Pick up orders
from local bookshops
Reviews
Showing 1 - 4 of 4 reviews.
Review by knittingmomof3
16/06/2015
Due to be released February 17, 2015, Nobody Walks by Mick Heron is not only a-typical espionage thriller, but also an intense thriller written in exceptionally beautiful prose, an unusual combination to be certain, but one that works beautifully. By all accounts Tom Bettany is a down and out loner, retired from special ops in MI-5, estranged from his family in London and is now working at a meat processing plant in France when he receives a phone call informing him is estranged son Liam fell to his death from his London balcony, the only detail known is that Liam was smoking a special brand of dope prior to his fall. Bettany may have cut his ties and run from his past, but the man he tried to run from is still within him and he is compelled to return to London to discover what truly happened to his son, a decision that will prove rather uncomfortable to downright dangerous for Bettany as everyone from mob bosses to MI-5 are, to say the least, intrigued that Bettany has finally resurfaced. Nobody Walks is an exceptionally well written, well drawn out thriller with a espionage twist, or enough of a twist that one probably would not label Heron's book an espionage thriller, and yet it is indeed a thriller. Heron's writing grabbed me from the first sentence and did not let go until the very end, an ending that stuck with me long after the book was finished, in my opinion the mark of an excellent book. Heron's characters are well written, complex, flawed, and relatable. The plot line is a twisting a turning labyrinthine which only lends to the mastery of Heron's writing. I highly recommend Nobody Walks to anyone who enjoys a superb thriller.
Review by ethel55
16/06/2015
While this turned out to not be a part of a series I'm already reading by Herron, it was a good thriller about a former MI5 operative who returns to London to exact revenge for the death of his estranged son. It's hard to know what Bettany had in mind when he first returned to London, but one of the highest in the MI5 echelons reached out via a newbie to try to steer his activities in the right direction. His son worked for a video game developer, so there is both tech talk and espionage talk as Bettany begins to run into faces from his past. Solid writing, Bettany just keeps moving through the story, much like a Reacher book, intent on his goal.
Review by Randall.Hansen
27/08/2015
A solid read, though never quite reaching the hype of a superb thriller. Interesting story of a man who returns to London after his estranged son dies. Was it an accident or murder? Was it drugs or something else? The novel starts VERY slowly, but second half gets into a nice pace. Includes spies and thugs and more. Somewhat abrupt and disappointing ending, but perhaps inevitable given the story and the characters.
Review by eadieburke
27/01/2016
This book was a cleverly written, dark and suspenseful story.The characters are well developed and very interesting. I have read Mick Herron's Zoe Boehm series and enjoyed them very much. This book does not disappoint either. It is a must-read for anyone who enjoys spy thrillers.<br/>