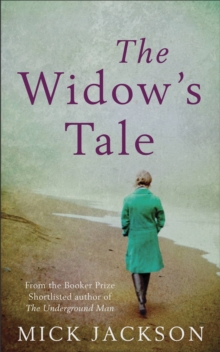 The Widow's Tale
Paperback
Description
A newly-widowed woman has done a runner. She just jumped in her car, abandoned her (very nice) house in north London and kept on driving until she reached the Norfolk coast.
Now she's rented a tiny cottage and holed herself away there, if only to escape the ceaseless sympathy and insincere concern.
She's not quite sure, but thinks she may be having a bit of a breakdown. Or perhaps this sense of dislocation is perfectly normal in the circumstances.
All she knows is that she can't sleep and may be drinking a little more than she ought to.
But as her story unfolds we discover that her marriage was far from perfect.
That it was, in fact, full of frustration and disappointment, as well as one or two significant secrets, and that by running away to this particular village she might actually be making her own personal pilgrimage.
By turns elegiac and highly comical, "The Widow's Tale" conjures up this most defiantly unapologetic of narrators as she begins to pick over the wreckage of her life and decide what has real value and what she should leave behind.
Information
Format: Paperback
Pages: 228 pages
Publisher: Faber & Faber
Publication Date: 01/04/2010
ISBN: 9780571206230
Other Formats
Paperback from £6.15
EPUB from £5.99
Free Home Delivery
on all orders
Pick up orders
from local bookshops
Reviews
Showing 1 - 3 of 3 reviews.
Review by CatyM
16/06/2015
I liked this book a lot. There was something about this unnamed character that really got under my skin. She is hard to figure out at first - her character is so mired in grief and depression that very little else comes through. Gradually, though, more and more of the widow's story, situation and personality begin to appear. As she reveals more of her past and present, the reader can <i>see</i> the ways she is healing - and the ways she is not. The first person, stream of consciousness style works extremely well, and the experience of depression and near-breakdown that it shows is heartbreaking, immediate and (so far as my personal experience allows me to assess) accurate. At times it almost feels as if the writer has lost the sense of his character - but then the story unfolds a little further and the character comes back into focus, and you realise that it's the complexity of the character and her situation telling a really well-written unreliable-narrator story. Mick Jackson does an excellent job of keeping the reader's interest and tying up the elements of the plot: every time I wondered, 'what happened with this character/plot element?' and thought he'd dropped a thread, it was picked up soon afterwards and my question was answered. The blurb describes the book as 'by turns elegiac and highly comical'; elegiac it certainly is, and very powerfully so. Highly comical it's not, but there is a wry and subtle humour to it that is very engaging.Highly Recommended.
Review by WoodsieGirl
16/06/2015
A newly widowed woman escapes to the Norfolk coast, to take stock and, as the blurb has it, "pick over the wreckage of her life".I can't say I particularly enjoyed this novel. It is reasonably well written, although with a few inconsistencies in the narrator's voice - if a character starts off the book with her conversation peppered with words like "boozer", "ciggies" and "screwing", she should really continue that way. I found the variations in her speaking style really distracting. It started to feel like the author kept forgetting who his character was. I found the story very difficult to get into, probably mainly because the narrator was such an unsympathetic, unlikable person. She talks about the desolation she feels as a widow, but spends most of the book moaning about how awful her marriage was and making snippy comments about her late husband. We never really get a sense of who her husband was as a person, or why she married him in the first place and stayed with him. Even when she details the other main relationship in her life, we still don't really get to know much about the man involved. She is a very self-centred narrator, which begins to feel quite oppressive after a while - as the book is written as a diary, and the narrator has next to no interactions with other characters, her perspective is all we see.I did find that the story got more interesting about half way through the book, but if I hadn't been reading this to review it I would probably have given up by that point. This isn't a bad book, but it's relentlessly negative, and not particularly gripping.
Review by nicx27
16/06/2015
This story is narrated by the widow herself. We never know her name, only her circumstances. She tells us how she has fled to Norfolk to a place which holds memories for her. We know that her husband has died, but not how, and we also know that, although the marriage wasn't perfect, our widow feels cast adrift without her husband.I was expecting a sombre and sad tale, but what I got was something that actually made me smile or laugh out loud on a number of occasions. The widow's voice is brilliant, as she's slightly caustic, and her neuroses make her quite funny to the reader. This is, of course, the tale of somebody on the verge of a breakdown, but Mick Jackson has managed to inject some subtle humour into it, and as a result it's never depressing.My only criticism is that I thought the book lost some momentum at about the half way point and I'm not sure why. However, it didn't spoil my enjoyment of the book.I'm really looking forward to reading the other Mick Jackson book that I have now, which is The Underground Man. I hope it's as good as read as The Widow's Tale.