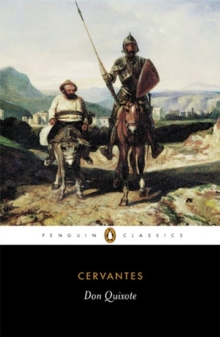 Description
Miguel de Cervantes's mock-epic masterwork, Don Quixote was voted the greatest book of all time by the Nobel Institute, and this Penguin Classics edition is translated with an introduction and notes by John Rutherford. Don Quixote has become so entranced by reading romances of chivalry that he determines to become a knight errant and pursue bold adventures, accompanied by his squire, the cunning Sancho Panza.
As they roam the world together, the aging Quixote's fancy leads them wildly astray, tilting at windmills, fighting with friars, and distorting the rural Spanish landscape into a fantasy of impenetrable fortresses and wicked sorcerers.
At the same time the relationship between the two men grows in fascinating subtlety.
Often considered to be the first modern novel, Don Quixote is a wonderful burlesque of the popular literature its disordered protagonist is obsessed with. John Rutherford's landmark translation does full justice to the energy and wit of Cervantes's prose, and this edition of Don Quixote won the 2002 Premio Valle Inclan prize for translation.
His introduction discusses the traditional works parodied in Don Quixote and issues of literary translation. Miguel de Cervantes Saaverda's (1547-1616) life was occupied with a struggle to earn a livelihood from literature and humble government employment.
As well as Don Quixote, he wrote a number of plays and a collection of highly accomplished short stories, Exemplary Tales (1613). If you enjoyed Don Quixote, you might like Homer's Odyssey, also available in Penguin Classics. 'John Rutherford makes Don Quixote funny and readable ...His Quixote can be pompous, imposingly learned, secretly fearful, mad and touching.' Colin Burrow, The Times Literary Supplement
Information
Format: Paperback
Pages: 1056 pages, notes, chronology
Publisher: Penguin Books Ltd
Publication Date: 19/10/2002
Category: Classic fiction (pre c 1945)
ISBN: 9780140449099
Other Formats
Hardback from £9.49
Paperback from £1.99
PDF from £6.49
EPUB from £6.49
Paperback / softback from £13.59
Free Home Delivery
on all orders
Pick up orders
from local bookshops
Reviews
Showing 1 - 5 of 5 reviews.
Review by frecked
16/06/2015
This translation by John Rutherford is reading pleasure. Always humourous if occasionally a little uncomfortable from a modern perspective.Through the stories and the mad adventures of Don Quixote and Sancho Panza are glimpsed the history, social conditions and attitudes of the time, something missing from my school history lessons (from an English perspective).
Review by karen.lea
16/06/2015
This book can be read and interpreted from so many perspectives, it's almost difficult to categorize. To call it a classic seems accurate, if unimaginative. I found myself torn when it comes to Don Quixote himself, between feeling pity for someone with such a skewed vision of the world, and being envious of that self same vision. Freedom of thought isn't a trait as much as it is a skill. As for Pancho, such unquestioned loyalty is enviable. To have such blind faith in someone, that you will always be ok if you remain with them, to fight for a cause, side by side with a friend, is indeed a noble calling, and requires a selflessness few possess. I think "insanity" is an oversimplification, and the only box these two could possibly fit within, are the covers of a book.
Review by Kristelh
16/06/2015
I am not sure if I liked this book beyond being able to say I read it and for the fact that now I will appreciate all the references. I listened to this book, read by Roy McMillan and also had the Penguin copy for reference. This book is a satire of the romance of chivalry that was popular at the time. It has contributed much to the growth of literature and therefore it does deserve to be a 1001 Book You Must Read Before You Die. The reference book states the "<i>Don Quixote</i> stands at the head of a long line of fictions of witch fictionality itself is the principal substance". Don Quixote has read himself mad by reading too many books of chivalry. He sets out to emulate a knight. We all have the picture of the beat up ol knight on a skinny horse jousting with windmills. To really enjoy the book for what it is, a parody of romances of chivalry during a time of transformation as humanism is taking hold; one has to remember the historical time of the writing. The subject of the book is the reader of the book, as this book is a layering of stories. Cervantes invents the novel by inventing the reader. Cervantes also uses the story for social commentary on the class and church structure. He addresses class and worth and incompatible systems of morality. Don Quixote is told in two parts. Cervantes wrote the first part in 1605 and the second part in 1615. The second part, Don Quixote becomes the character read as many people he meets are already familiar with book one and know about him and Sancho Panza, is squire.
Review by Lodgemonster
16/06/2015
This book remains one of the finest ever written. The characters are so real that you feel a real connection with them that spans across the centuries. Sancho Panza's unending loyalty despite Quixote's delusions makes him one of the best fictional creations ever. That such a book of such length can remain readable, humorous and enjoyable so many years later (provided you have a good translation) speaks volumes for Cervantes's genius. No praise is high enough for a masterpiece such as this.
Review by bethie-paige
16/06/2015
This is a monster of a book. It is just shy of 1000 pages and it definitely felt that long. <br/><br/>Long classics are incredibly intimidating which is probably why I had such troubles actually sitting down and picking this book up because it intimidated me so much. Although the length is scary, the content isn't. <br/><br/>I found this novel to be fully entertaining and almost always hilarious. Honestly, I caught myself laughing out loud in some bits, it was that ridiculous. <br/><br/>Don Quixote is a guy, who after reading a heap of novels about knights, decides to become one himself and practically deludes himself into this strange scenario where he is a gallant knight. Everyone in the book thinks he is a madman, but the fact that they acknowledge this and then continue to go along with his nonsense is what makes this book so hilarious. <br/><br/>(Also the fact that 'Don Quixote' was supposed to ridicule the novels that Don Quixote reads [and what was popular during Cervantes time] but in fact, made them more popular and became one itself. I swear in the second half it was the story of a true knight, if not a very strange one.)<br/><br/>The relationship between Don Quixote and Sancho Panza is funny in itself and definitely matures throughout the novel. The intelligence of Sancho, even though he is portrayed as simple-minded, is superb and matures with the novel. Sancho really becomes a part of Don Quixote's madness in the second part and it's also quite funny to see him react in all the crazy situations.<br/><br/>The plot wasn't that of a regular novel; it was simply the string of events that happened to Don Quixote after he decided that he was a knight and as a knight, he should do knightly things.<br/><br/>The only thing I didn't quite like about this book was the length. I caught myself wishing it was shorter countless times throughout reading this book. In my opinion, it really didn't need to be this long.<br/><br/>Overall, I would definitely recommend this book as a first (big) classic to anyone who is interested because I feel that the writing and story are quite easy to follow.
Also by Miguel De Cervantes Saavedra | View all