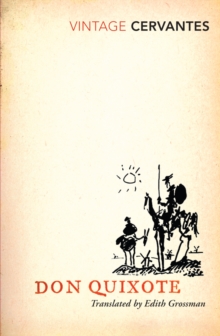 Description
WITH AN INTRODUCTION BY HAROLD BLOOM. Widely regarded as the world's first modern novel, and one of the funniest and most tragic books ever written, Don Quixote chronicles the famous picaresque adventures of the noble knight-errant Don Quixote de La Mancha and his faithful squire, Sancho Panza, as they travel through sixteenth-century Spain.
Unless you read Spanish, you've never read Don Quixote.
Information
Format: Paperback
Pages: 976 pages
Publisher: Vintage Publishing
Publication Date: 06/01/2005
Category: Classic fiction (pre c 1945)
ISBN: 9780099469698
Other Formats
Paperback from £2.50
Hardback from £8.89
EPUB from £1.07
eAudiobook MP3 from £9.79
Paperback / softback from £14.35
Free Home Delivery
on all orders
Pick up orders
from local bookshops
Reviews
Showing 1 - 4 of 4 reviews.
Review by chillihead
16/06/2015
I'd been putting off reading Don Quixote for a number of years. I knew I should read it, but I guess its length put me off. I'd also been put off by reading poor translations of other non-English classics, and didn't fancy slogging through 900 odd pages of staid and tortured English.It was only after all the rave reviews that Edith Grossman's recent translation received, that I finally decided to give it a go. And let me say, it is well worth the effort. Grossman has translated Cervantes' Spanish into wonderfully flowing English, capturing as much of the original word play as is possible. Where particular phrases cannot be translated into English whilst retaining their original humour, Grossman provides footnotes explaining the original Spanish meaning.I never thought a 400 year old book could make me laugh out loud, but this one has on many occaisons. It has to be the funniest thing I've read all year (but I have spent a lot of this year reading Proust, so maybe it doesn't have much competition). Although the adventures the "Knight of the Sorrowful Face" experiences are hilarious, my particular favourites being "The Adventure of the Galley Slaves" and "The Adventure of the Cave of Montesinos", they can become a bit repetitive. They all follow the same general pattern, Don Quixote mistakes some common thing or event as a chivalric adventure and is subsequently beaten up. You would think that this would make the book boring, as some reviewers on here have said, but the plot really isn't the point of the book. What really makes the book for me is the wonderful dialogues between Don Quixote and his squire Sancho Panza. Quixote veers from the coherent discussion of a country gentlemen to the ravings of a madman, whilst Sancho at one moment can be a country bumpkin, the next he is discussing the governship of "insulas" with princes, always relying on his endless supply of mixed metaphors and maxims.In short, this is one of the best books I've ever read.
Review by diehardkev
16/06/2015
Grossman has successfully brought the best of the humour out to make this the defintive translation of the misadventures of literatures first chivalric gentleman. I was laughing out loud by the end of the first chapter.
Review by brose72
16/06/2015
The humorous, fanciful adventures and the insightful observations of Don Quixote and Sancho Panza are captured with such mastery of language that I am not able to name a novel ever written in which the author mixes such wit and beauty of expression. New joys and provoking thoughts encountered with every new exploit.
Review by davidroche
16/06/2015
Go on, you know you've always said that you mean to read this. And this translation confirms that this is really very brilliant and very funny at the same time.