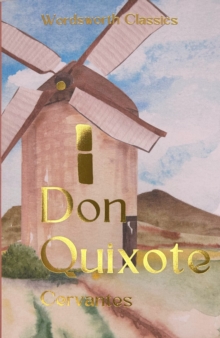 Description
Translated by P. A. MotteuxWith an Introduction and Notes by Stephen Boyd, University College, CorkCervantes' tale of the deranged gentleman who turns knight-errant, tilts at windmills and battles with sheep in the service of the lady of his dreams, Dulcinea del Toboso, has fascinated generations of readers, and inspired other creative artists such as Flaubert, Picasso and Richard Strauss.
The tall, thin knight and his short, fat squire, Sancho Panza, have found their way into films, cartoons and even computer games. Supposedly intended as a parody of the most popular escapist fiction of the day, the `books of chivalry', this precursor of the modern novel broadened and deepened into a sophisticated, comic account of the contradictions of human nature.
On his `heroic' journey Don Quixote meets characters of every class and condition, from the prostitute Maritornes, who is commended for her Christian charity, to the Knight of the Green Coat, who seems to embody some of the constraints of virtue. Cervantes' greatest work can be enjoyed on many levels, all suffused with a subtle irony that reaches out to encompass the reader, and does not leave the author outside its circle. Peter Motteux's fine eighteenth-century translation, acknowledged as one of the best, brilliantly succeeds in communicating the spirit of the original Spanish.
Information
Format: Paperback
Pages: 800 pages
Publisher: Wordsworth Editions Ltd
Publication Date: 05/05/1992
Category: Classic fiction (pre c 1945)
ISBN: 9781853260360
Other Formats
Paperback from £4.99
Hardback from £8.89
EPUB from £1.07
eAudiobook MP3 from £9.79
Paperback / softback from £14.35
Free Home Delivery
on all orders
Pick up orders
from local bookshops
Reviews
Showing 1 - 5 of 6 reviews.
Previous | Next
Review by MeditationesMartini
16/06/2015
It's not a comic novel, or a romantic tragedy, or a journey into the self, or of course it's all those things, but mostly it's an incredible metanovel, dude. Think about how much thinner this book would be without all the stories people tell in it. Thnk about how many of those stories are false or apocryphal or ludicrously confused, the story equivalent of DQ's many many platfalls that somehow never get old, and then think about how the stories drive the action. How the author gamely steps up for his share of blows. How half the book only exists to show up that Tordesillas dude who wrote a fake sequel, and how that's the same as Don going out and adventuring in the first place - literature is the driving force, and Orlando and all of that is real literature too, of course. This book interacts with the real world in maybe the closest and subtlest way ever, and as the characters get oh-so-close to realizing their fictitious, constructed nature, you stop and go OH SHIT. Here I am with my reading, wasting my life away too. Why? And then you go on doing it, a slave to books just like Quixote, and that is insanity too. but what else can you do? You don't have control; you are fictional. Your books are writing you.
Review by fothpaul
16/06/2015
Finally finished after starting this a couple of years back. Enjoyed some sections immensely, but found others a struggle to get through.Particularly interesting that a lot of it is still relevant to modern times, just shows how poeple don't really change through time. Some parts actually made me laugh out loud, particularly the slapstick moments and sheer lunacy of the main character.Glad I finished it and I certainly don't regret reading it.
Review by carterchristian1
16/06/2015
The number of references to this individual who is really very well described y deadwhiteguys is truly admazing to anyone outside Spain. Yet they must truly love him and admire him and have done so through the centuries. Spain is truly a misunderstood country, far more complex than most of us understand. No, Ihave not finished it yet, but I must. I was reading this on a city bus and a girl came up and told me it was her favorite book. Never had this happen before.The pasts I can best identify with are the comment that Don Quixote would stay up all night reading, and then the chapter when the neighbors throw out his library. My daughter would really like to do this.
Review by shanaqui
16/06/2015
I have a feeling I would have liked Don Quixote a lot more in some other translation. I've wanted to read it for a while, but this translation (Wordsworth edition, P. A. Motteux) just didn't work for me. I didn't actually finish the whole thing, because I really, really didn't like the translation. One day, I will find a translation I prefer and have another attempt at it.<br/><br/>I don't really feel like I get to write a proper review about the book now, but I'll jot down the impressions I got. I did get about halfway through, at least. The translation was a problem for me because it was very dry and dated. I feel like when you're translating books, the point is to make them readable to a new audience. Obviously, Cervantes shouldn't read like Stephen King, but to make the book accessible, it shouldn't read like a textbook. I feel like maybe the translation is too literal. It doesn't help that in this edition the writing is tiny and cramped together. I had a look at the Penguin edition at one point, and I seem to remember it being easier to look at, and the translation a little easier -- although of course I only read a couple of pages.<br/><br/>In terms of the story, I love it. It's become so much a part of cultural background that it's a little ridiculous not to ever try it. I mean... "tilting at windmills", anyone? It is funny how early in the book that most famous part happens. I found the book rather tedious to begin with, but it was actually somewhat easier when I got to the story of Cardenio -- partly because I've read a book just recently that focused on the Cardenio story and Shakespeare, and that had been what prompted me to actually buy Don Quixote. At that point, I feel, the story does get easier, but I really couldn't cope with the translation anymore.<br/><br/>I love some of the scenes and ideas, and Quixote's delusions, but it's kind of difficult for me because I get so embarrassed for delusional characters. It makes me rather uncomfortable. I also have a bit of difficulty with books that meander about and have so many stories-within-the-story, without much of a driving plot themselves, but my main problem was that I couldn't get into it and reading it felt like an awful drag.<br/><br/>Please note that my rating is not for the book as a whole, nor the book in general, but for this specific edition.
Review by missizicks
16/06/2015
Much as I love Shakespeare, Don Quixote is a more accessible work of 17th century literature. This book has been waiting on my bookcase for almost 22 years. Finally I have read it, and it was worth it. Funnier than I expected. Charming in its telling of the story of a madman and his wise but foolish squire. I enjoyed the connection between the adventures, with characters returning for further encounters with Don Quixote, and people spoken of in travellers' tales eventually materialising themselves. I struggled with the last 200 pages, not because the story telling weakened, but because I felt fatigued with reading about the futile wanderings of Quixote and Panza.
Also in the Wordsworth Classics series | View all