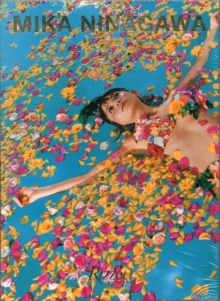 Description
This is the first monograph to be published in the West on the work of Mika Ninagawa, one of Japan's most celebrated photographers.
The appeal of Mika Ninagawa's photography can best be summed up by a signature approach that is bathed in vivid colors and is dreamlike in its manipulation of depth of field.
Whether it is portraiture, landscape, or still life, at the heart of her work are themed looks that rotate between flora, fauna, landscapes, and glamorous young women to create Ninagawa's lush fashion tableaux.
A cultural superstar in Japan, where celebrities seek her portraiture, she is now breaking out in the West.
Ninagawa shoots her ornately clad human subjects against baroque stylings that suggest a firm grasp of practical scenography, and the work achieves a calm, pictorial mastery.
Portraits of local and international personalities, from Chiaki Kuriyama to Beyonce, pepper her portfolio, and her distinct and vibrant aesthetic has been very influential in the fashion world.
Lauded in Japan as an art and fashion photographer, the assertion on Mika Ninagawa's official website of being "Japan's most popular photographer" is no idle boast.
She is certainly the most prolific. Formally represented by Tomio Koyama's influential gallery, Ninagawa's images are widely exhibited in Japan and abroad.
She has had key installations at Colette in Paris and Arndt and Partner in Berlin, and is a frequent participant at Art Basel Miami.
She received the prestigious Kimura Ihei Award in 2001.
Information
Format: Hardback
Pages: 352 pages, 300 Color Illustrations
Publisher: Rizzoli International Publications
Publication Date: 01/09/2010
Category: Individual photographers
ISBN: 9780847833979
Other Formats
Paperback / softback from £21.19
Also by Mika Ninagawa