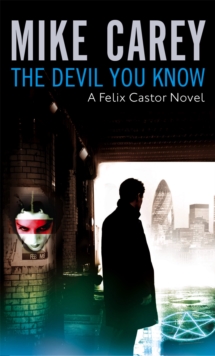 The Devil You Know : A Felix Castor Novel, vol 1
Paperback
Description
Felix Castor is a freelance exorcist, and London is his stamping ground.
At a time when the supernatural world is in upheaval and spilling over into the mundane reality of the living, his skills have never been more in demand.
A good exorcist can charge what he likes - and enjoy a hell of a life-style - but there's a risk: sooner or later he's going to take on a spirit that's too strong for him.
After a year spent in 'retirement' Castor is reluctantly drawn back to the life he rejected and accepts a seemingly simple exorcism case - just to pay the bills, you understand.
Trouble is, the more he discovers about the ghost haunting the archive, the more things don't add up.
What should have been a perfectly straightforward exorcism is rapidly turning into the Who Can Kill Castor First Show, with demons, were-beings and ghosts all keen to claim the big prize.
But that's OK; Castor knows how to deal with the dead.
It's the living who piss him off . . .
Information
Format: Paperback
Pages: 480 pages
Publisher: Little, Brown Book Group
Publication Date: 01/04/2006
Category: Horror & ghost stories
ISBN: 9781841494135
Free Home Delivery
on all orders
Pick up orders
from local bookshops
Reviews
Showing 1 - 5 of 8 reviews.
Previous | Next
Review by diehardkev
16/06/2015
A thoroughly enjoyable supernatural detective novel from the author of Hellblazer. The start of what should be a solid series.
Review by fnanson
16/06/2015
So this is the first Felix Castor novel. And I'm very pleased that Mike Carey has at least 5 other books planned with the same character.If you like the kind of fun a Hellboy novel provides, do yourself a favor and read this. It's better!
Review by scriberscouse
16/06/2015
Welcome to London as you've never seen it before, where the dead rise, were creatures exist and entire sections of the city are rendered inhabitable by lingering ghosts linger in this alternative world. This is a very nice addition to the urban fantasy genre and how lovely it is to have a British author and location too. Felix Castor is a some time stage magician but scrapes a living as a freelance exorcist driving out the lingering dead with a tune from his tin whistle. Felix, or Fix to his friends, has been retired as an exorcist for almost a year; a college friend's possession by a demon that he was unable to chase out has left him with some lingering doubts.Unfortunately, Felix is broke and owes his wonderfully eccentric landlady some money so against his better judgement he takes an exorcism job at the London hall of records where an angry spirit has been scaring the staff. This is a cracking good mystery with the dry humour of Harry Dresden if not a touch blacker. Felix realises that the staff aren't all being as helpful as he would expect, the mystery takes a dangerous turn when he digs deeper into finding out more about the spirit to break her connection with the place and discovers what might be a sex slave trade. I loved this, and am greatly looking forward to the second title Vicious Circle due out this October.
Review by johnny1868
16/06/2015
The Big Sleep, Cracker and The Exorcist all rolled into one fantastic novel. Black humour resonates through the tense and gripping tale of a freelance exorcist/detective, Felix Castor, operating in a London where the dead are hanging out with the living. I loved this book, the plot, the characterisation, the dark humour... all superb, but the real clincher for me is the way Carey has engendered a sense of gritty urban realism within Castor's occult world.
Review by defrog
16/06/2015
That would be the same Mike Carey who wrote some of Hellblazer's better story arcs, and also wrote the Lucifer comics, and currently writes both the X-Men and Ultimate Fantastic Four. And I'd never have known if I hadn't just happened to read the promo blurbs at the back of Christopher Moore's Bloodsucking Fiends, which – considering the synopsis described it as an exorcist in a time when the dead are coming back as ghosts and zombies – made me wonder if it was the same Mike Carey who wrote Hellblazer. It is, and it's bloody good. Carey tells a good story (even if it seems to riff off Hellblazer occasionally and uses the old "coming out of retirement to do one last job that goes horribly wrong" motif), and has a wicked sense of humor amidst some of the nastiness. The second book of the series is already out and I went straight out and bought it. Makes me look even more forward to the Warren Ellis novel coming out later this year.
Also in the Felix Castor Novel series | View all