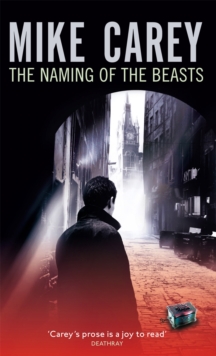 The Naming of the Beasts : A Felix Castor Novel
Paperback
Description
They say the road to Hell is paved with good intentions, but if you ask Castor he'll tell you there's quite a bit of arrogance and reckless stupidity lining the streets as well. And he should know. There's only so many times you can play both sides against the middle and get away with it.
Now, the inevitable moment of crisis has arrived and it's left Castor with blood on his hands.
Well, not his hands, you understand; it's always someone else who pays the bill: friends, acquaintances, bystanders. So Castor drowns his guilt in cheap whisky, while an innocent woman lies dead and her daughter comatose, his few remaining friends fear for their lives and there's a demon loose on the streets.
But not just any demon - this one rides shotgun on his best friend's soul and can't be expelled without killing him.
Looks like Felix Castor's got some tough choices to make, because expel the demon he must or all Hell will break loose.
Literally ...
Information
Format: Paperback
Pages: 512 pages
Publisher: Little, Brown Book Group
Publication Date: 03/09/2009
Category: Fantasy
ISBN: 9781841496559
Free Home Delivery
on all orders
Pick up orders
from local bookshops
Reviews
Showing 1 - 5 of 6 reviews.
Previous | Next
Review by theforestofbooks
16/06/2015
Book five of the Felix Castor crime noir series featuring the supernatural in all its wonderful spooky glory. In The Naming of the Beasts, Castor finally gets the opportunity to rectify his earlier mistakes detailed in the previous books as he comes to a final confrontation with Asmodeus. This story just continues the Castor madness with Carey seeing just hot much shit his character can take (although Caster did seem to get a happy ending this time around.) As usual the plot is as tight as the proverbial duck's arse and the dialogue as punchy as a drunk boxer. This did feel like the closing of an arc so it'll be interesting to see where Carey takes the series next.
Review by shevdon
16/06/2015
This is a NO SPOILERS review.I don't know whether The Naming of the Beasts is the final book in the Felix Castor series, I'm hoping not, but it certainly brings the whole series to a crescendo. I would not recommend that you read The Naming of the Beasts as a stand-alone book. It would stand alone as a story, but you would miss out on the back story and the evolution of the characters in this book. Some aspects, such as the relationship between Sue Book and Juliet, would be lost or difficult to understand. You really need to start with The Devil You Know and read them all in sequence. You will not be disappointed.The series has grown quite a list of characters, but it never feels heavy or unwieldy. Alliances shift and change, characters rise and fall, our understanding grows and we see them anew. The atmosphere of the alter-London that Mike Carey creates is wonderful. It feels like London, it looks like London, but it has another aspect. It treads the line between a closed world hidden from everyday view and an open world where things like ghosts, zombies and demons are acknowledged by society. Throughout the series there are hints of events elsewhere pushing the boundaries of normality and changing the world. It's never stated, but I can't help but feel that somehow Felix Castor is linked to these changes and that there is more to come. I do hope so.
Review by BeckyJG
16/06/2015
Felix "Fix" Castor has spent the last three weeks drunk. Not just drunk, but falling-down, blacking-out, puking-on-your-shoes drunk. Immediately prior to the decidedly unfun debauch he's just come out of, Fix was unable to keep nefarious forces from undoing the careful controls by which he'd endeavored for the last several years to keep his friend Rafael Ditko's--quite literal--demon under control. Now, a close friend is dead, her daughter is in a vegetative state, and the demon who drives Rafi's body is rampaging across London, cutting, it would seem, a very bloody swath. Fix's only hope to capture Rafi (and his demon, Asmodeus) is to join forces with the evil Professor Jenna-Jane Mulbridge and her team of exorcists for hire...which, as far as Fix is concerned, is tantamount to selling his soul to the devil himself. But beggars can't be choosers and all that, so he does what he has to do. But there are so many other questions he has to answer, and sticky situations he has to contend with, such as why has former succubus Juliet begun beating up gentle Sue Book, the woman who made her want to become human? And why does the tenor of supernatural phenomena in London seem to have taken a turn for the scarier? And what the heck are the strange stones, painted with ancient characters and pentagrams, that keep turning up at the places Fix frequents?The answers to these questions and more will be revealed, but not without a lot of shrieking and wailing, blood and gore. And perhaps, at the end, a little love interest for poor lonely old Fix?<i>The Naming of the Beasts</i>, the fifth installment in a series which just keeps getting better, is a most satisfying read. Forewarned is forearmed, however: if you're interested, but haven't read the earlier books in the series, it's recommended that you do. This title would stand alone as a good scary read, but is much more meaningful when read in light of the vast character development that has occurred over the course of the previous four books.
Review by mbg0312
16/06/2015
Very good noir urban fantasy (and not of the paranormal romance kind that often gets mixed up with this). It takes right off from the previous book and ends with a bang. I hope the series doesn't end here, although this would be a good ending if necessary.
Review by rivkat
16/06/2015
Everything Felix Castor has been juggling starts crashing down: his demon-possessed friend Rafi is in the wind, threatening to kill everyone Felix cares about; his reformed demon quasi-friend Juliet is quickly losing the "reformed"; and to save Rafi he's made a deal with a scientist whose ethics when it comes to the non-living are as appealing as Mengele's. The book works as a satisfying climax to the series, though I understand there's another in the works.
Also in the A Felix Castor Novel series