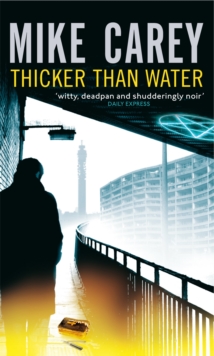 Thicker Than Water : A Felix Castor Novel
Paperback
Description
Old ghosts of different kinds come back to haunt Fix, in the fourth gripping Felix Castor novel.
Names and faces he thought he'd left behind in Liverpool resurface in London, bringing Castor far more trouble than he'd anticipated.
Childhood memories, family traumas, sins old and new, and a council estate that was meant to be a modern utopia until it turned into something like hell ...these are just some of the sticks life uses to beat Felix Castor with as things go from bad to worse for London's favourite freelance exorcist.
See, Castor's stepped over the line this time, and he knows he'll have to pay; the only question is: how much?
Not the best of times, then, for an unwelcome confrontation with his holier-than-thou brother, Matthew. And just when he thinks things can't possibly get any worse, along comes Father Gwillam and the Anathemata.
Oh joy ...
Information
Format: Paperback
Pages: 512 pages
Publisher: Little, Brown Book Group
Publication Date: 05/03/2009
Category: Science fiction
ISBN: 9781841496566
Free Home Delivery
on all orders
Pick up orders
from local bookshops
Reviews
Showing 1 - 5 of 8 reviews.
Previous | Next
Review by theforestofbooks
16/06/2015
This is the fourth book in the Felix Castor series and it's a series which just improves with each book. The storyline weaves in some of Castor's backstory but moves him forward too, fighting a present day demon. The plot is fast paced yet intricate with strands going off in different directions until Carey brings them all neatly back together without it feeling forced or drawn out. Carey's background is in comics and it shows too, with biting prose and scintillating dialogue delivered dry and dead pan... with some laugh out loud moments. I absolutely loved this and I'm really looking forward to the fifth book in a few months time.
Review by BeckyJG
16/06/2015
Mike Carey's Felix "Fix" Castor series is one that is maturing nicely. In <i>Thicker Than Water</i>, Fix's fourth outing, he finds himself--much against his will--thrust back into his own past, dredging up memories he'd just as soon remained submerged and forcing a deeper examination of his own ghosts than he'd prefer.DS Gary Coldwell, Fix's sometimes grudging friend and ally on the police force, awakens him in the middle of the night to call him in to do a reading at a crime scene. After his heart rate evens out Fix is relieved; just weeks before he and Juliet had quite literally stolen their friend Rafael Ditko--who is also the vessel barely containing the powerful demon Asmodeus--out from under the nose of the nefarious Professor Jenna-Jane Mulbridge, who conducts questionable experiments on the dead, the undead, and the possessed. What a relief, then, that Coldwell's pounding on his door is not to investigate that crime. That relief, however, is short-lived, for when they arrive at the crime scene Fix discovers that not only is the victim, Kenny Seddon, someone he knows--a bully from his childhood on the estate he grew up in back in Liverpool--but that Kenny has apparently scrawled Fix's name, in his own blood, across the inside windshield of the car in which he's found stabbed and slashed almost to the point of death.Oh bother.The ensuing action--in which Fix is, for the most part, a semi-fugitive, as he's sorta kinda been implicated in the crime--takes him back to Liverpool (a journey he has no interest in making, and even dreads), where he must face some of his own personal (albeit, thankfully, figurative) demons.Mike Carey has done a nice job of developing his characters over the course of this series. In this book, in addition to further glimpses into Juliet's transformation into a more human being, we also gain great insight into the character of Matt, Fix's brother, who is a Catholic priest. The end is a true cliff-hanger, leaving us only with the knowledge that the next book will be fully (and finally!) about Rafe Ditko and his personal (literal, I fear) demon, Asmodeus.I can't wait!
Review by everfresh1
16/06/2015
A little slower than other Felix Castor novels but still good
Review by mbg0312
16/06/2015
After a bit slower pace than I liked in the previous Felix Castor novels (which were still quite good!), the pace and the energy picks up significantly in this one. This is very good noir urban fantasy, living up to the potential shown in his Lucifer graphic novels.
Review by rivkat
16/06/2015
Felix Castor, exorcist-gumshoe, is at it again, this time investigating deadly and near-deadly goings-on at a housing project that turn out to be connected to some deep Castor family history. This one's all about dredging up past wrongs and figuring out what can be fixed, when so much can't be. The immediate mystery didn't do much for me because I am cold-hearted like that, but the larger revelations about the way demons work in this world were very interesting.
Also in the A Felix Castor Novel series