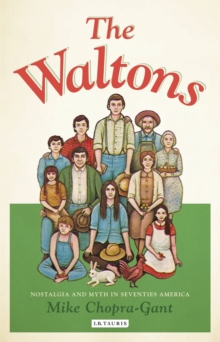 The Waltons : Nostalgia and Myth in Seventies America
Paperback / softback
Description
The period in which The Waltons appeared on television screens was socially and politically volatile; a testing time in which Americans grappled with 'stagflation', rising oil prices, defeat in Vietnam, political corruption at the highest levels and the aftermath of the seismic political shifts that originated in the countercultural movements of the preceding decade.
In this fascinating book, Mike Chopra-Gant demonstrates how the Waltons offered 1970s America a reassuring vision of itself at this turbulent time, and displayed a nostalgic desire for a return to traditional conservative and paternalistic family values in the face of the shifts taking place in society.
He examines its deployment of key myths of Americanness and positions the vision of family life offered by the show in the context of changing images of the family on television, from the conformity of the 1950s family in shows like Father Knows Best, through the strange families of the 1960s, such as The Munsters and The Addams Family and through to contemporary representations exemplified by the dysfunctional families of The Simpsons, Family Guy and American Dad. He also explores the show's representations of masculinity through three generations of men and its ambiguous depiction of strong women, whose demands for equality are met by apparent concessions that actually amount to a regressive restoration of female domesticity.
Information
Format: Paperback / softback
Pages: 232 pages
Publisher: Bloomsbury Publishing PLC
Publication Date: 16/04/2013
Category: Television
ISBN: 9781848850293
Free Home Delivery
on all orders
Pick up orders
from local bookshops
Also by Mike Chopra-Gant