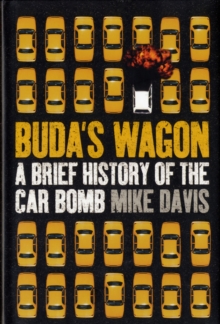 Buda's Wagon : A Brief History of the Car Bomb
Hardback
Description
Celebrated urban historian returns with a compelling account of the "poor man's airforce," from Vietnam to Beirut - Davis' most accessible book yet.
On a September day in 1920, an angry Italian anarchist named Mario Buda exploded a horse-drawn wagon filled with dynamite and iron scrap near New York's Wall Street killing 40 people.
Since Buda's prototype, the car bomb has evolved into a "poor man's air force," a generic weapon of mass destruction that now craters cities from Bombay to Oklahoma City.
In this brilliant and disturbing history, Mike Davis traces its worldwide development, in the process exposing the role of state intelligence agencies - particularly those of the United States, Israel, India, and Pakistan - in globalizing urban terrorist techniques.
Davis argues that it is the incessant impact of car bombs, rather than the more apocalyptic threats of nuclear or bio-terrorism, that is producing the most significant mutations in city form and urban lifestyle, as privileged centres of power increasingly surround themselves with "rings of steel" against a weapon that nevertheless remains technologically and politically intractable.
Free Home Delivery
on all orders
Pick up orders
from local bookshops
Reviews
Showing 1 - 1 of 1 reviews.
Review by lriley
16/06/2015
A very interesting book--tracking the history of the car bomb from the time of the Sacco-Vanzetti trial until pretty much today. Davis as well keeps tracks of milestones--where the ante is always inevitably ratcheted up. The fact as well that it has not just become a weapon of the weak (or as he calls it 'the poor man's air force) against the strong but increasingly as well a tactic of the strong (in particular their secret services--CIA, MI5 for instance) against the weak. In particular the CIA under the leadership of William Casey during the Reagan administration schooling thousands of anti-Soviet Afghans and outside Moslems fighting against the Soviets on the tactical uses of such have since come back to haunt us--the planes crashing into the twin towers on 9-11 being seen as 'car bombs with wings'. Interesting as well to read about the Stern gang targeting British soldiers and Arabs in Palestine as the first use of the car bomb as a weapon in the Middle East. Whatever entity starts the ball rolling seems to eventually have it boomerang back upon itself whether it's freedom fighter, terrorist or nation state. In the case of Islamic fundamentalism today seeming to taken on an uncontrollable life of its own amongst numerous loosely aligned groups. We find ourselves these days just about in a whack a mole state with no clear exit strategy.As much as a world leader--such as GWB 2 use to be--might choose to ignore an inconvenient fact and go on ahead with policies that ignore and exacerbate existing problems or create new ones to blithely ignore--spinning versions of events for p.r. while going full bore ahead with an agenda set on enriching himself and his friends while ordinary citizens are left to bear the brunt of the blowback. Well as just another ordinary citizen that's where ignorance gets you--though as I see it it's practically impossible to keep up with everything going on--blissfully and willfully going on like everything is on the up and up does not make you innocent. We live in a chaotic world and it's best to bone up on chaos theory and leave God to the fundamentalists of all stripes for all their simplistic metaphysical theories to explain why this has got to be like this and that has got to be like that. In the meantime the rest of us could start by getting real and demanding more of our government to act in accordance to what it's supposed to stand for--supporting the freedom of people around the world to live in a way that they freely choose (and not necessarily to become clones of us)--either that or choose to stay out of the way and do no harm. In any case--Davis's books is very much worth reading. Not altogether unlike Chomsky (at his best) in terms of content and structure. Anyway I'd definitely recommend it.