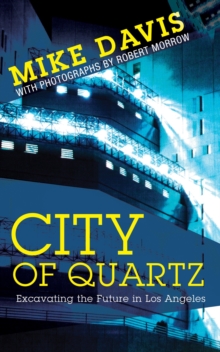 City of Quartz : Excavating the Future in Los Angeles
Paperback
Description
No metropolis has been more loved or more hated. To its official boosters, "Los Angeles brings it all together." To detractors, LA is a sunlit mortuary where "you can rot without feeling it." To Mike Davis, the author of this fiercely elegant and wide-ranging work of social history, Los Angeles is both utopia and dystopia, a place where the last Joshua trees are being plowed under to make room for model communities in the desert, where the rich have hired their own police to fend off street gangs, as well as armed Beirut militias.
In "City of Quartz", Davis reconstructs LA's shadow history and dissects its ethereal economy.
He tells us who has the power and how they hold on to it.
He gives us a city of Dickensian extremes, Pynchonesque conspiracies, and a desperation straight out of Nathaniel West-a city in which we may glimpse our own future, mirrored with terrifying clarity.
In this special 15-year anniversary edition, Davis provides a dazzling update on the city's current status.
Information
Format: Paperback
Pages: 480 pages, ill
Publisher: Verso Books
Publication Date: 21/08/2006
Category: Social & cultural history
ISBN: 9781844675685
Free Home Delivery
on all orders
Pick up orders
from local bookshops
Reviews
Showing 1 - 3 of 3 reviews.
Review by JBreedlove
16/06/2015
The best book I read this year. Enlightening, frightening, and depressing at the same time. Hidden history, especially that of the US is very interesting. Especially that of the social movement and an undemocratic southern California.
Review by bruchu
16/06/2015
Even Better Than The OriginalI recently re-read this updated edition of the classic "City of Quartz" by noted socialist scholar Mike Davis. This text is quickly becoming a classic and belongs alongside the great urban sociological texts such as Jane Jacobs' "The Death and Life of Great American Cities."The history of the development of Los Angeles is really like no other story in America, and indeed the world. And while some may not appreciate the Marxist interpretations and the dialectical method which Davis uses, nevertheless, the depth of intellectual analysis is simply breathtaking. When the original book was written, Davis correctly foreshadowed the Rodney King riots.Davis pulls no punches in his research. He covers the early railroad and oil speculators, Otis and Harry Chandler, the development of Hollywood, Catholicism in LA, defense industrial production, postwar suburbanization, Kaiser steel, housing covenants, the Watts riots, large Japanese investments of the 80s, and more and more. The book is extremely dense so prepare to spend several weeks, maybe even months to fully absorb the details. Certainly whole books can be written on each of the major topical areas.Included in this new edition are some fabulous new photos, all by Robert Morrow. The extended prologue in the new edition isn't anything revolutionary, but Davis does update the recent history of Los Angeles.Obviously, I recommend this book, especially for anyone wanting a deeper intellectual, cultural, and social understanding of the major ideological undercurrents that make up the wonderful city of Los Angeles.
Review by j_wendel_cox
16/06/2015
A quintessential text of the New Western History and the most important work on Los Angeles in the latter half of the twentieth century.