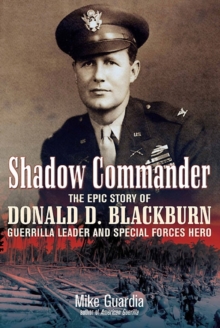 Shadow Commander : The Epic Story of Donald D. Blackburn; Guerrilla Leader and Special Forces Hero
Hardback
Description
Praise for Mike Guardia:"...meticulously researched, with facts verified by exhaustive sleuthing...a fine work of investigative history."-Military Writers Society of AmericaThe fires on Bataan burned on the evening of April 9, 1942, illuminating the white flags of surrender against the night time sky.
Woefully outnumbered, outgunned, and ill-equipped, battered remnants of the American-Philippine army surrendered to the forces of the Rising Sun.
Yet amongst the chaos and devastation of the American defeat, Army Captain Donald D.
Blackburn refused to lay down his arms. With future Special Forces legend Russell Volckmann, Blackburn escaped from Bataan and fled to the mountainous jungles of North Luzon, where they raised a private army of over 22,000 men against the Japanese.
Once there, Blackburn organised a guerrilla regiment from among the native tribes in the Cagayan Valley."Blackburn's Headhunters," as they came to be known, devastated the Japanese 14th Army within the western provinces of North Luzon and destroyed the Japanese naval base at Aparri, the largest enemy anchorage in the Philippines. After the war, Blackburn remained on active duty and played a key role in initiating Special Forces operations in Southeast Asia.
Following his return to the United States, Blackburn was appointed"Special Assistant for Counterinsurgency and Special Activities," where he was the architect of the famous Son Tay Prison Raid.
This book follows Donald D. Blackburn through both his youthful days of desperate combat against an Empire, and through his days as a commander, imparting his lessons to the newly realised ranks of America's own Special Forces.
Information
Format: Hardback
Pages: 240 pages, 16 pp illustrations
Publisher: Casemate Publishers
Publication Date: 01/01/2012
Category: Asian history
ISBN: 9781612000657
Free Home Delivery
on all orders
Pick up orders
from local bookshops