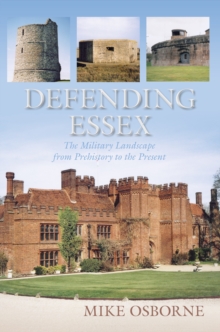 Defending Essex : The Military Landscape from Prehistory to the Present
Paperback / softback
Description
For 2,000 years Essex, the county with the longest coast-line in England and dominating the eastern approaches to London, has been in the front-line against foreign invasion, from the Romans to the Spanish Armada to the two World Wars.
It has also been involved in civil disorder, from the Anarchy and the Peasants' Revolt to the English Civil War.
Many reminders of these scenes of conflict may be seen in the landscape - Iron Age forts, a Roman walled town, medieval castles, strong-houses and homestead moats, coastal fortifications from Napoleonic times and earlier, and Victorian barracks and the drill halls of the Volunteers.
From the twentieth century there are still more sites: military airfields from the First World War and Battle of Britain fighter airfields, radar sites and later bomber bases from the Second.
Anti-invasion defenses line the coast, linear defenses criss-cross the landscape, and AA sites are everywhere to be found.
Taking the story all the way up to the nuclear threat of the Cold War, this guide will interest residents and visitors alike.
Information
Format: Paperback / softback
Pages: 224 pages
Publisher: The History Press Ltd
Publication Date: 01/02/2013
Category: Warfare & defence
ISBN: 9780752488349