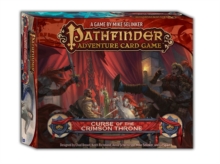 Pathfinder Adventure Card Game: Curse of the Crimson Throne Adventure Path
Game
Description
The King Is Dead. Long Live theQueen!Korvosa is cursed that none of itsmonarchs shall ever die of old age or produce an heir.
The metropolis teeters onthe edge of anarchy. It needs heroes that can face down crime lords, riotingmobs, insane cultists, virulent plague, undead hordes, scheming devils, corruptnobles, barbarian chieftains, and ancient and forgotten evils that seek todominate and plunder the city.
Thisexpansion to the popular cooperative strategy game pits 1 to 6 players againstmonsters, perils, and traps as you save the city of Korvosa from threats bothancient and new.
Choose your character; build a deck of unique equipment, magic,and allies; and explore lethal locations as you journey through an excitingfantasy tale.
As your adventures continue, your characters will add remarkablegear and breathtaking magic to their decks.
They'll also gain incredible powers,which they'll need to challenge more and more powerfulthreats. This set includes the storybook andcards for the Curse of the Crimson Throne Adventure Path.
It requires thePathfinder Adventure Card Game Core Set and expands the maximum number ofplayers to 6 for that set.
You can supplement your experience with CharacterDecks, the Pathfinder Adventure Card Society, and Pathfinder Adventure Card Gameaccessories (available separately). ThePathfinder Adventure Card Game: Curse of the Crimson Throne Adventure Pathincludes:* 550 cards featuring a widearray of powerful weapons, magical spells, protective armors, versatile items,helpful allies, harrowing blessings, devoted supporters, and a base to help youface a host of vicious monsters, dangerous barriers, vile scourges, and perilouswildcards* 4 character pawns representingHakon the skald, Kess the brawler, Quinn the investigator, and Varian thewizard* 48-page storybook featuring all 6chapters of The Curse of the Crimson Throne AdventurePathREQUIRES THE PATHFINDER ADVENTURE CARD GAMECORE SET TO PLAY.
Information
Format: Game
Pages: 0 pages
Publisher: Paizo Publishing, LLC
Publication Date: 11/06/2019
Category: Indoor games
ISBN: 9781640781481
Free Home Delivery
on all orders
Pick up orders
from local bookshops