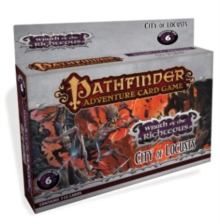 Pathfinder Adventure Card Game: Wrath of the Righteous Adventure Deck 6 - City of Locusts
Game
Description
The Final Crusade! Having returned from the Abyss with Iomedae's blessing,you're ready to permanently close the Worldwound.
Hosts of demons servingDeskari, the Lord of the Locust Host, await your challenge within the City ofLocusts.
The Pathfinder Adventure Card Game: City of Locusts Adventure Deck isa 110-card expansion to the Wrath of the Righteous Base Set that adds newlocations, monsters, villains, and more to the Pathfinder Adventure CardGame.
This deck also includes new loot cards and six new scenarios that makeup the complete City of Locusts adventure, including an epic final Bossbattle. Price IncludesVAT
Information
Format: Game
Pages: 110 pages
Publisher: Paizo Publishing, LLC
Publication Date: 10/11/2015
Category: Fantasy
ISBN: 9781601257512
Free Home Delivery
on all orders
Pick up orders
from local bookshops