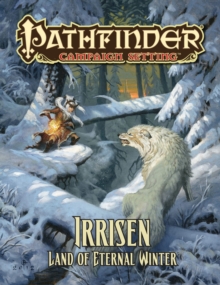 Pathfinder Campaign Setting: Irrisen - Land of Eternal Winter
Paperback / softback
Description
Winter has finally come! Discover the frozen mysteries and chilling dangersof the nation of Irrisen, the Pathfinder campaign setting's realmof hearty heroes, merciless magic, and icy evil.
Confront the freezing ambitionsof the land's proud rulers, the winter witches; hunt magical monstrositiesborn amid endless blizzards; and learn the cycle of the realm's frigidrulers, the infamous daughters of Baba Yaga.
With details on the nation'smajor settlements, sinister adventure sites, new rules for wintry dangers, hostsof icy monsters and native NPCs, and plots to inspire whole campaigns, thisshiver-inducing sourcebook gives GMs everything they need to adventure acrossthis realm of wintry wonder.
All the details on Irrisen's dangers anddenizens also makes this the perfect companion for GMs running the chilling newReign of Winter Adventure Path.
Unleash a storm of icy evil upon yourcampaign with Pathfinder Campaign Setting: Irrisen - Land of EternalWinter!
Information
Format: Paperback / softback
Pages: 64 pages
Publisher: Paizo Publishing, LLC
Publication Date: 26/02/2013
Category: Indoor games
ISBN: 9781601254863
Free Home Delivery
on all orders
Pick up orders
from local bookshops