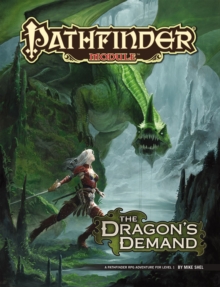 Pathfinder Module: The Dragon's Demand
Paperback / softback
Description
Founded by a famous dragonslayer, the small town ofBelhaim has become a sleepy rural community just off the beaten path, asettlement where everyone knows everyone and strangers are the talk of the town. But whenBelhaim's peaceand quiet is shattered by the sudden collapse of the last standing tower of itsfounder'scastle, things quickly bloom out of control.
Why were there bodies of koboldsamid the rubble?What's thesinister secret behind the strange sounds of flapping wings in the night? Andwhat's happenedto local wizard Balthus Hunclay,who's notanswering knocks on his door?
The collapsed tower had long been an eyesore tothe cantankerous old man-could he have had something to do with its destruction?And what of the rumors of strange stirrings in nearby Dragonfen?
HasBelhaim'sancient draconic nemisis returned? TheDragon's Demandis a deluxe super-adventure for 1st-level characters, and includes 64action-packed pages of adventure and new monsters, plus a beautifuldouble-sided, full-color poster map of the town of Belhaim and an importantminiatures-scale battleground!
Players can expect to reach 7th level by the timethey complete this epic adventure-if they manage to survive the wrath of adragon when his demandsaren'tmet!
Information
Format: Paperback / softback
Pages: 64 pages
Publisher: Paizo Publishing, LLC
Publication Date: 20/08/2013
Category: Indoor games
ISBN: 9781601255273
Free Home Delivery
on all orders
Pick up orders
from local bookshops